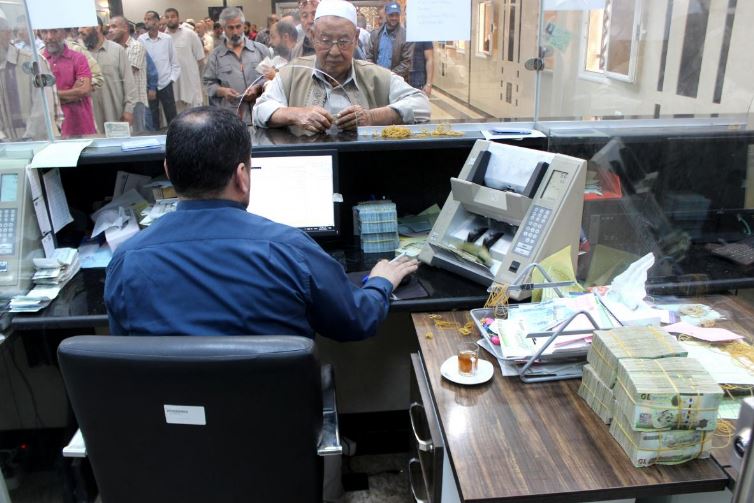 TRIPOLI (Reuters) – Libya expects to end a long-running liquidity crisis by early 2019 as a foreign currency tax helps the official and black market exchange rates converge at less than 3 dinars to the dollar, the Tripoli-based deputy prime minister said.
The chasm between the two rates has enabled armed groups and their allies to reap vast profits to fund the conflict that has engulfed Libya since 2011, when a NATO-backed uprising overthrew Muammar Gaddafi after more than four decades in power.
Meanwhile ordinary Libyans, reliant on imports of everything from milk to cars, have seen living standards crumble.
Since 2014, Libya has had competing governments aligned with rival armed factions based in the capital Tripoli and the east.
The internationally recognized Tripoli government hopes its currency reforms will help restore confidence in the economy and chart a way out of the turmoil by putting the armed groups out of business, a main goal of UN efforts to stabilize Libya.
Asked when the liquidity situation in the banks would be normalized, Ahmed Maiteeg told Reuters: "By the beginning of February, beginning of next year, it will be part of the past."
Once the rates converge and the supply of dinars and dollars is freed up, Libya will begin reducing fuel subsidies that cost the state up to $5 billion last year and have led to rampant smuggling to neighboring countries, Maiteeg said.
He also said state oil firm NOC, which has struggled to maintain oil fields amid funding shortages and blockages by armed groups, would get a development budget of $1.8 billion in 2019, as the wheels of the economy start turning with the flow of dollars. Other development projects would also be restarted.
Between 2014 and 2017, the dinar fell by as much as 600 percent on the parallel black market, which has become the widely used benchmark, as oil production see-sawed and trust in the banking system collapsed.
The official rate, used only by some state companies, has remained at 1.4 dinars.
To bridge the gap, the internationally recognized government in Tripoli slapped a 183 percent tax on commercial and private hard currency deals in September, bringing the effective official rate for such transactions to 3.9 dinars.
Together with a new allowance that allows Libyans to withdraw up to $10,000 annually using a credit card, this has helped bring down the parallel rate to 5.30 from between 6 and 7 two months ago, according to dealers' rates seen by Reuters.
Break even
The government expects the black market rate to continue to fall as dollars continue to pour in from the card allowance and as more import letters of credit are opened.
Spelling out details of the reforms for the first time, Maiteeg said Libya would nudge the effective official rate lower as the black market rate dropped.
"It will go down gradually until it reaches the break even or the right exchange rate," he said.
Libya used a similar mechanism to devalue its currency in the 1990s.
Maiteeg declined to give the future official rate, saying only that studies put a fair value at between 2 and 2.4 dinars. "Much depends on oil exports and actual internal demand."
When pressed whether the official rate would at least be less than 3 he said: "Of course."
After access to cash improves, the government will gradually draw down a fuel subsidy that has long been among the most generous in the world. A liter of petrol costs 0.15 dinars.
However, previous governments have tried to reform the subsidies but have faced resistance from the armed groups for whom smuggling has become a lucrative source of income – suggesting the militia will not roll over easily.
The groups have also made vast profits through their control over banks and through scams linked to letters of credit (LCs)that grant dollars at the official exchange rate.
Maiteeg said letters that had been restricted due to falling dollar revenues and the import scams were now freely available at the 3.9 rate, and credit worth more than $1 billion was issued from Oct. 1-24.
"It is open for everybody now so there is no need to have a militia, or pressure the central bank to have an LC. Anyone who wants an LC at 3.9 just apply and you will have it," he said.
The expected $1.8 billion in 2019 for oil firm NOC will boost production, Maiteeg said. "This will improve the production of oil and this will improve the NOC pipelines."
NOC and state power firm GECOL are exempt from the new foreign currency fee, while other state firms have to apply for exemptions.
Maiteeg said that so far no foreign reserves had been spent on LCs, but the government was willing to spend them if necessary.
Restarting more than 4,800 projects halted since 2011 will help create jobs, Maiteeg said. "Many of these projects will be started in 2019," he said.