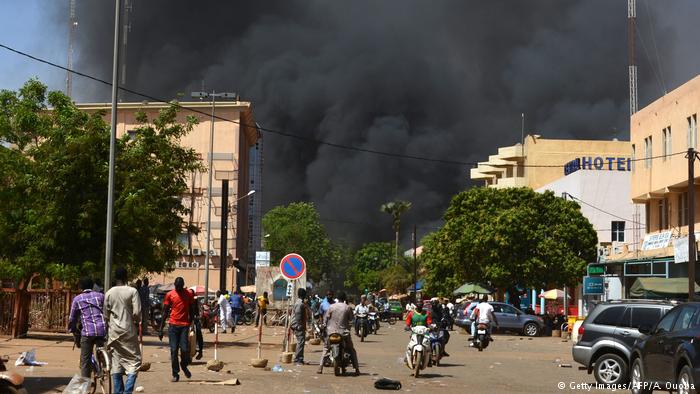 Armed gunmen have attacked Burkina Faso army headquarters in Ouagadougou, with violence also reported near the French embassy. A French envoy to the region described the incident as a "terrorist attack."
Multiple attacks were "under way" in Burkina Faso capital of Ouagadougou on Friday. Witnesses reported explosions at the army headquarters with masked gunmen attacking the entrance to the building.
Initially, the French embassy said its offices and the local French Institute also under attack, but later said the locations of the incidents remained unclear.
Security forces were deployed to downtown Ouagadougou and erected barricades to keep the civilians out of the area. Helicopters were seen flying above the region housing key government and diplomatic buildings. The authorities did not immediately release details on possible casualties.
What we know so far:
An explosion and heavy gunfire were heard at the army HQ Ouagadougou, with a group of gunmen attempting to storm the building's entrance.
Police said an armed attack was under way near the prime minister's office in the center of the city.
It was not immediately clear how many locations in Ouagadougou were targeted.
The police suspect Islamic extremists were behind the attack.
DW's correspondent Richard Tiene reported that businesses and schools were closed in downtown Ouagadougou.
"Security forces have surrounded the headquarters, Camp Guillaume, which is located in the center of the city," he said. "There is no sound of gunshots anymore, but there is a big cloud of smoke coming from the headquarters."
French foreign ministry issues statement
France's Foreign Ministry advised its citizens to stay "in a safe place" and "suspend all travel in the city until further notice."
Separately, French envoy Xavier Lapdecab advised "absolute caution" to his compatriots.
French Ambassador to the Sahel region, Jean-Marc Chataigner, described the incident as a "terrorist attack" on Twitter.
The office of the French President Emmanuel Macron said that the president was "being informed in real time" of the situation and was following the situation closely. The impoverished West African nation of Burkina Faso is a former French colony.