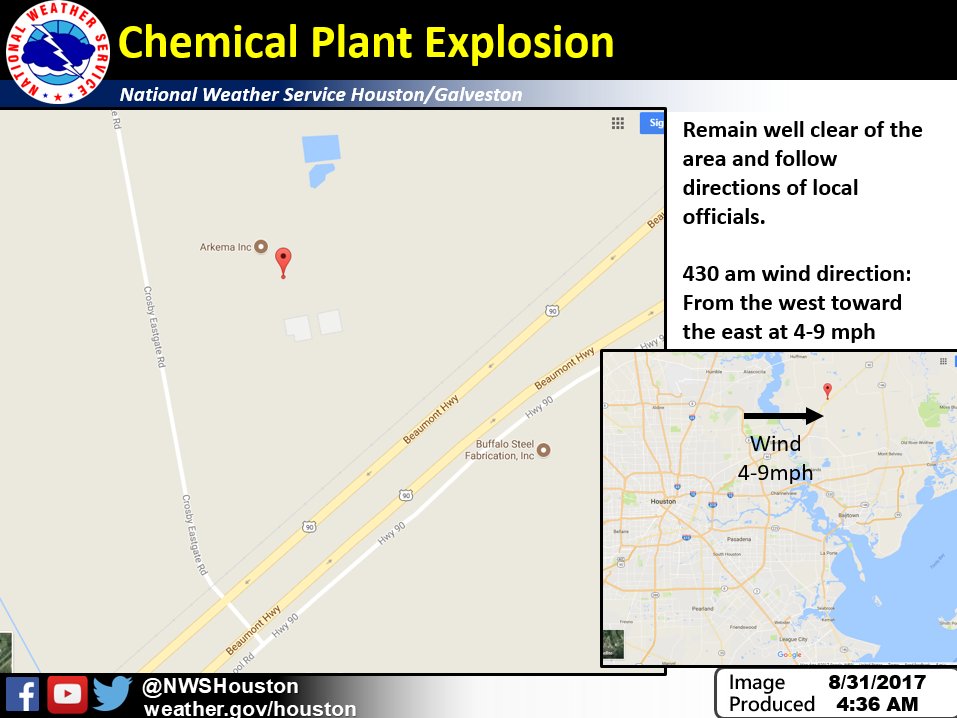 Two explosions and plumes of black smoke were reported at a flooded chemical plant in Crosby, Texas on Thursday, officials said.
One deputy has been taken to the hospital after he inhaled fumes from the Arkema peroxide plant, the Harris County sheriff's office tweeted. Nine others drove themselves to the hospital as a precaution, the sheriff's office said.
The explosions were reported around 2 a.m. (local time). The facility, which is between Houston and Beaumont, had been closely monitored after plant officials said they expected a chemical reaction that will likely cause a fire that will "resemble a large gasoline fire."
The thick black smoke from the explosions "might be irritating to the eyes, skin and lungs," Arkema officials said in a statement. The scope of the explosions is still unknown. The company shut down the facility as Harvey approached last week and evacuated employees as well as residents within 1.5 miles of plant as a precaution after it was flooded under more than five feet of water.
"There is a small possibility that the organic peroxide will release into the floodwaters but will not ignite and burn," the company said in a statement.
The flooding in southeast Texas has severely affected oil and chemical plants. Many have shut down operations in the past few days, including, the Colonial Pipeline, which carries huge amounts of gasoline and other fuel between Houston and the East Coast. Valero and Motiva, the largest refinery in the country, have also closed some facilities.
The heavy rain is over, but the devastation that Harvey unleashed in Texas has left unprecedented flooding and thousands of people vulnerable. Many are trapped in flooded homes, and others who've taken refuge in shelters are unsure of their future. Across the state, families are searching tirelessly for missing relatives on the sixth day since the catastrophic storm made its first landfall.
"The worst is not yet over for southeast Texas," Gov. Greg Abbott said in a news conference.
At least 37 deaths related to Hurricane Harvey and its aftermath have been reported in Texas. Among the dead are a Houston man who was electrocuted while walking in floodwaters and a mother whose body was floating about a half mile from her car. Rescuers found her daughter, who is in stable condition with hypothermia, clinging to her dead body. 
On Thursday, Federal Emergency Management Agency workers and firefighters will assess the extent of Harvey's destruction in southwest Houston, the nation's fourth largest city. 
In Port Arthur, the desperate pleas of help are piling up after its 55,0000 residents woke up to rising waters when the storm made it's final landfall Wednesday morning.
"All I have in my house is power. I have no food. I have no water. I only have power in my house. I don't have no way of getting around," Chatham said. "I'm stuck upstairs. It's just me and my dog. And I'm upstairs with my other neighbors. It's like five of us up here."
Just in the Houston-area, officials say that more than 4,800 people have been rescued by the Coast Guard and local police while countless people are waiting for aid.
Andrew Pasek inadvertently stepped in a live electrical wire as he walked in about 4 feet of water on Tuesday. He was trying to get to his sister's house.
"He felt the charge and knew something was wrong right away and tried to shake it off right away," his mother Jodell said.
The 25-year-old quickly asked a friend to get away from him "because if you do, you know, you will go to," he told his friend. Pasek was electrocuted and died. His mother said no one tried to resuscitate him for an hour until the electricity was turned off. "It could have been anybody," she said.