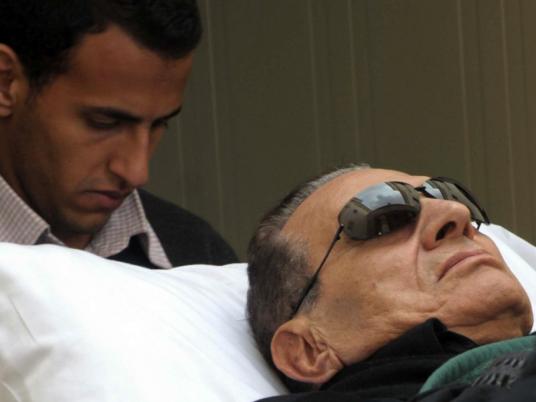 Former President Hosni Mubarak and former Interior Minister Habib al-Adly will be retried on charges of killing peaceful protesters during the revolution, Justice Minister Ahmed Mekky said Thursday.
Mekky explained that the retrial is necessary because the previous hearing disregarded incidents that took place in governorates outside of Cairo.
Mekky told Al-Masry Al-Youm that the retrial would not cancel the previous ruling, but would add new sentences against the defendants if they are found guilty in incidents that were not considered in the first trial.
Cairo Appeals Court head Samir Aboul Maaty said he has not yet received any information on the subject.
Aboul Maaty refused to give a legal opinion of the retrial decision, saying, "I cannot give now an opinion in a case that I may later consider."
Adel al-Saeed, spokesperson for the public prosecution, said the Cairo Criminal Court's neglect of some incidents was one of the prosecutor's reasons for appealing the verdict. He added in a statement that the prosecution demanded that Mubarak and Adly be retried over incidents that were ignored in the first ruling.
The fact-finding committee formed to examine the killing of protesters during the 25 January revolution had requested the retrial.
Mubarak and Adly were found guilty of failing to prevent the killing of protesters and the Cairo Criminal Court sentenced them to life in prison in June. Six top security officials were acquitted on grounds that there was not sufficient evidence to convict them.
Committee head Mohamed Ezzat Sherbash sent a memorandum to the public prosecutor saying the court had built its judgment solely on the incidents in Tahrir Square, which falls under the jurisdiction of Qasr al-Nil police station, disregarding events in other areas in Cairo and the rest of the governorates. It has thus failed to answer to the public prosecution's charges in this regard.
The committee said its decision was based on the initial charges of participation in the murder and the attempted murder of protesters in the governorates of Cairo, Giza, 6th of October, Suez, Alexandria, Beheira, Gharbiya, Qalyubiya, Sharqiya, Daqahliya, Damietta and Beni Suef. State-run news agency MENA did not specify when the memo was sent.
According to the memo, the prosecution is allowed by law to bring the case back to the court for rulings on charges it has disregarded.
The June trial verdict sparked outrage among Egyptians, particularly regarding the acquittals of the six Interior Ministry officials.
Edited translation from MENA