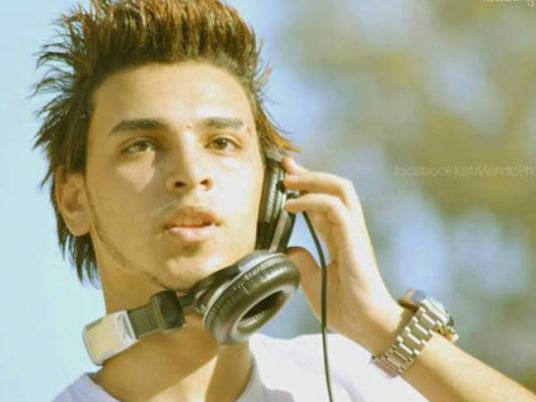 A DJ with one of Egypt's most famous pop bands was accidently killed in clashes between police and supporters of former president Mohamed Morsy on Sunday as opposition groups commemorated the fourth anniversary of the 2011 uprising.
Ahmed "Zo'la" Mohsen, a DJ working with the hotshot rapper trio (Alaa Fifty, Sadat and Amr Haha), received a gunshot wound to the head on his way home in Matariya, the district that saw the fiercest clashes on Sunday.
The Health Ministry said 23 people died as opposition groups marked the 2011 uprising on Sunday, with the largest majority of the deaths having occurred in Matariya alone.
Ahmed Abdel Aziz, one of the band's assistants told Egypt Independent that Zo'la was buying clothes with his friends and sustained the gunshots when he was leaving back home, stressing that the deceased had no political affiliations.
He revealed that doctors at the Zeitoun Hospital were trying to convince his family and friends to sign a postmortem claiming that he committed suicide, presumably to spare themselves lengthy investigation procedures required should his death be registered as by gunshot.
Abdel Aziz said that his family, however, rejected the suggestion, adding that they were taking him from the hospital to a morgue to carry on procedures with prosecution services. "We just want to bury him, it is unfair for him," Abdel Aziz said.
Anti-government sentiments were high among opposition groups with the killing of protesters, who were not allied with supporters of former president Mohamed Morsy whom the government has accused of committing terrorist actions against security and the public.
Social media was also stirred by the death of socialist activist Shaimaa al-Sabbagh on the eve of the uprising's anniversary after she received a gunshot widely believed to be from police forces during a symbolic protest in Downtown Cairo. Many officials, however, blaimed the Muslim Brotherhood, saying the infiltrated the protests and shot her.
"Images of a slain protester, blood running down her face and hair as her body was lifted from the ground, have touched off powerful criticism of Egypt's government on the anniversary of a revolution initially sparked by police brutality," the Associated Press said, pointing to her funeral in Alexandria which drew hundreds, many chanting, "'Down with military rule' — a slogan President Abdel Fattah al-Sisi, the former military chief elected to office in May, has said he will no longer tolerate."