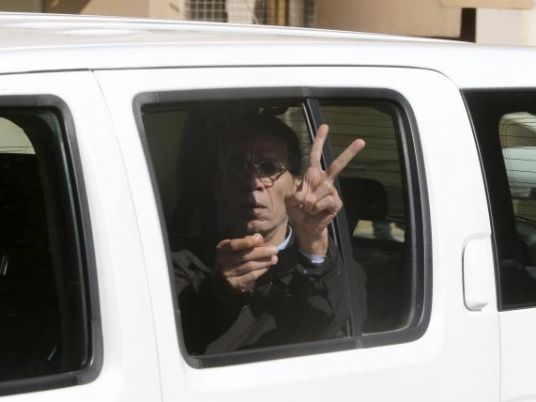 The wife of the man who hijacked an EgyptAir passenger plane on Tuesday has told the media that his actions were not motivated by love, rejecting rumours that he had asked to talk with her during the six-hour crisis at Larnaca airport in Cyprus.
In an interview with Greek daily Phileleftheros, Marina Paraschou said that her former husband, Seif Eldin Mustafa, was an "extremely dangerous" man with militant tendencies. Talking of her marriage to him, which ended in the early nineties, she said he was a drug user who beat her and their children.
Her comments, in combination with those of a crew member, raise questions about the alleged "personal" motives of the hijacker.
Paraschou was called to Larnaca airport in Cyprus to help resolve the hostage crisis on Tuesday, and her arrival was reported in the media as further evidence that the hijacker had romantic motives. However, she denied claims that Mustafa had asked to speak with her on the telephone during the crisis, explaining that police had called her to the airport only to identify his voice.
While Cypriot and Egyptian officials claimed on Tuesday that the hijacker's motives were "personal" rather than "terrorist", Paraschou described her former husband as a "fanatical" supporter of the Palestinian Liberation Organization, who had boasted about helping to kill three Israeli soldiers.
Police in Cyprus said that Mustafa had a long criminal record, stretching back to 1988, including domestic violence and forging passports. According to The Guardian newspaper, Egypt's Interior Ministry said that Mustafa had finished a one-year sentence in Cyprus, and was released in March 2015.
Paraschou's revelations appear to point to a possible political motive behind the hijacking, a notion apparently supported by claims made by one of the crew onboard the flight, which took off from Alexandria early on Tuesday morning.
According to a Sky New Arabia report, an air hostess named Yasmine Sobol claims that Mustafa was demanding the release of 63 women prisoners. Sobol said that during the crisis Mustafa handed her a document listing the prisoners, asking her to give it to the plane's captain, with instructions to pass it to a representative of the European Union.
Sobol said that Mustafa had also demanded representatives of the EU to come on board the aircraft for discussions. At one point during the crisis, an envelope was seen being dropped from the plane as it stood on the tarmac, with media reports suggesting that it might be a letter from Mustafa to his wife.
The drama started early on Tuesday morning, when a passenger hijacked the EgyptAir flight from Alexandria to Cairo, apparently demanding that it be rerouted to Cyprus. The hijacker claimed to be wearing an explosive vest, although the device later turned out to be fake.
After the EgyptAir plane landed at Larnaca airport, the hijacker released all those onboard except the crew and a handful of passengers. By early afternoon, more hostages started to leave the aircraft, as negotiations continued.
Eventually, Mustafa emerged from the aircraft with his hands raised, signalling that the drama was finished.
Throughout the crisis, both Egyptian and Cypriot officials had stated that the hijacker's motives were not clear, although they charaterized them as "personal" rather than "terrorist".
Cypriot President Nicos Anastasiades told reporters, "It is not something which has to do with terrorism."
According to Reuters, Egyptian Prime Minister Sherif Ismail said that the man's demands were not clear.
"At some moments he asked to meet with a representative of the European Union and at other points he asked to go to another airport, but there was nothing specific," said Ismail.
The new information, from both Paraschou and Sobol, suggests that investigators may be considering "terrorist" motives after all.
Further scotching claims of romantic motives, Paraschou, who lives close to Larnaca, said that since the end of their marriage, Mustafa had not sought to contact her.
Mostafa and Paraschou broke up in 1992, and they had five children, one of whom died in a car accident at the age of 17 after their separation. The couple had four children, one of whom died in a road accident.