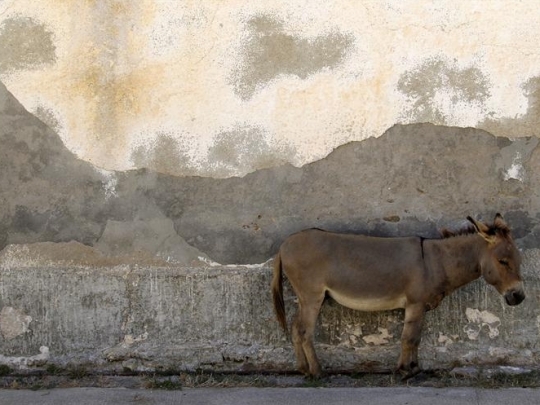 03/31/2014
Omar Abul Maged, a 31-year-old farmer, never imagined he would one day be in prison for naming his donkey after the defense minister.
However, the Qena Misdemeanor Court has now sentenced him to a year over charges of "humiliating the military" for naming his donkey "Sisi," after the recently resigned military chief Abdel Fatah al-Sisi who is due to run for presidential elections after overthrowing Egypt's first democratically elected president Morsy on 3 July.
Abdul Maged's satirical way of protesting against the military-led government began in 20 September 2013 when the pro-Morsy Abul Maged was riding his donkey through his village, called Ashraf in Qena province, covering the donkey's body with a poster of al-Sisi and putting a military-style cap over the donkey's head.
The police, when notified of this act from anti-Morsy villagers, arrested Abul Maged along with his donkey and after six months in custody, the court issued its verdict on Sunday.
The court decision serves as a reminder of the intensified crackdown on government dissenters.
Abul Maged's arrest in September coincided with the detention of eight activists for spraying anti-military graffiti as well as the cancelation of Bassem Yossef's satirical show after it indirectly ridiculed the military in the first episode following military takeover in July.
The judiciary's tough penalties against government dissenters culminated on Monday of last week as a criminal court sentenced 529 Muslim Brotherhood defendants to death in the largest capital punishment on record in Egypt's modern history which raised both local and international outcry.
Though lawyers highly expect the verdict to be dropped before the Court of Appeals, human rights groups lashed back at the severity of the verdict as "it raises doubts about the fairness of the judiciary system in Egypt," said a statement by Andalus Center for Tolerance and Anti-Violence Studies.
"The heavy-handed crackdown on any opponent voices will not end the game for one side but will rather ignite the political situation further and keep the economy down," said Ahmad El-Sayed, a political activist.
Recently, the anti-Sisi comments on social media have rapidly resurged as the only outlet to slam the new presidential runner, safe from the military's heavy-handed tactics against street protests.
The strongman's opponents voiced their protest via Twitter using the sarcastic hashtag in Arabic "Intekhbo al-Ars," which translates to "Vote for the pimp," in response al-Sisi's televised speech four days ago, expressing his intention to run for presidency, which contradted his spokesperson's statement last September when he said al-Sisi had no intention to run for president.
Though Adul-Maged's physical arrest was an easy attempt to reign in government dissent, authorities have merely given more fodder for criticism to users of Twitter and Facebook.
"From now on ridiculing Sisi is not an insult to the military institution, as he resigned, insulting him is a national duty," Salama Abdul Hamid tweeted.