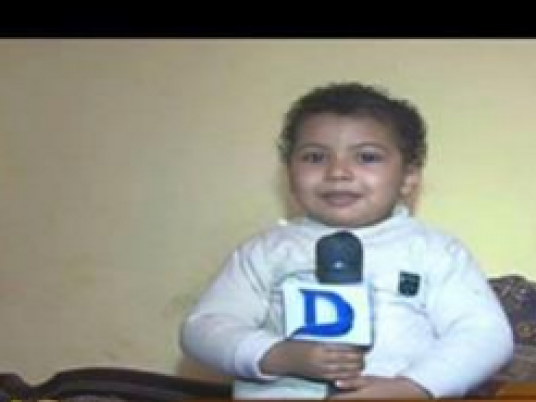 The father of a four-year-old boy convicted of violence and sentenced to 28 years in prison has cried injustice, saying he had been remanded into custody for refusing to hand over his young boy to police,
"Police officers knocked on my door and asked to hand over my four-year-old son. When I refused, they took me to the police station and referred me the other day to the prosecution, where I was remanded into custody for 15 days pending investigations," Mansour Qurani, the father of Ahmed, told Dream satellite channel's Wael al-Ibrashi late on Saturday.
The conviction of little Qurani by the Western Cairo Military Court was related to incidents of violence at Fayoum back in 2014, when the boy was actually one and a half years old. The boy, who lawyers say was mistakenly included on the list of defendants, was convicted along with 115 others of violence related to assaults on military intelligence and health ministry facilities.
Press reports quoted Qurani's lawyers as saying that the court refused to consider the boy's birth certificate, which they submitted as evidence that he could not logically had been involved in the violence. They said the mistake poses questions around whether the case was thoroughly considered by the judges.
"I am appealing to all officials to keep my son with me. They won't take him from me. This is unfair," Qurani said.
Ibrashi also lashed out at prosecutors involved in the case.
"What kind of investigations can implicate a two-year-old in protesting, rioting and comitting arson?," the presenter wondered. "We are experiencing a state of political and security immaturity. Those people who conduct those kinds of investigations are the ones who are truly ruining the state."