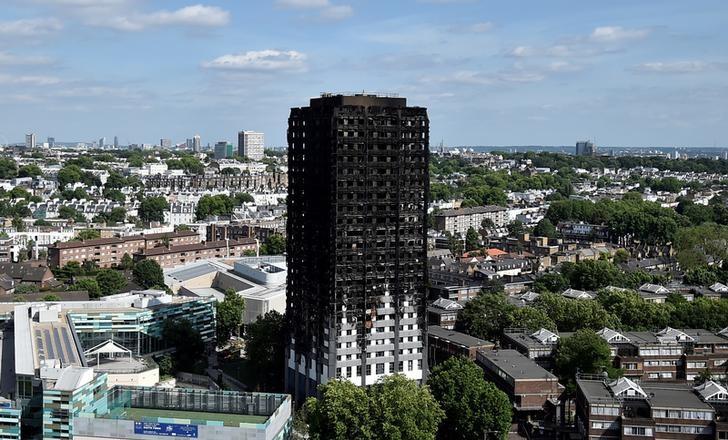 The Grenfell Tower fire took the lives of 71 people in total, British police said on Thursday as five months of search and rescue operations inside the building's charred husk draw to a close.
Officials identified 70 people who lost their lives during a fire in London in June this year. The 71st casualty was a stillborn baby.
The coroner on Tuesday confirmed the names of two final bodies recovered from the wreckage of the 24-story social housing block, leading police to believe all those who died in the blaze have now been identified.
Police had initially estimated that about 80 people died in the fire in June this year, which began in a refrigerator before racing through the rest of building. Survivors have grown frustrated with the time taken to reach the final death toll.
"After the fire was finally put out I entered Grenfell Tower and was genuinely concerned that due to the intensity and duration of the fire, that we may not find, recover and then identify all those who died," said police commander Stuart Cundy.
"Specialist teams working inside Grenfell Tower and the mortuary have pushed the boundaries of what was scientifically possible to identify people," he added.
The eldest victim was 82-year-old Ali Jafari while the youngest — known only as Baby Logan — was a stillborn child whose mother suffered severe smoke inhalation as she escaped the building.
Grenfell Tower is located in London's affluent borough of Kensington and Chelsea. Its predominantly working-class inhabitants were multi-ethnic and included many from immigrant backgrounds.
A criminal investigation into the causes of the fire was established in August, alongside a separate inquiry into failures in planning, construction, and maintenance of the tower.
The tragedy has prompted a soul-searching debate into London's stark social inequalities, and the local council has come under fire for its handling of the crisis.
A report published on Monday by opposition lawmaker Emma Dent Coad, Member of Parliament for Kensington, found that most children displaced by the blaze were still in emergency accommodation five months later.
"The council and the government are failing in their duty of care to Grenfell survivors, evacuees and near neighbors every day," Dent Coad wrote.