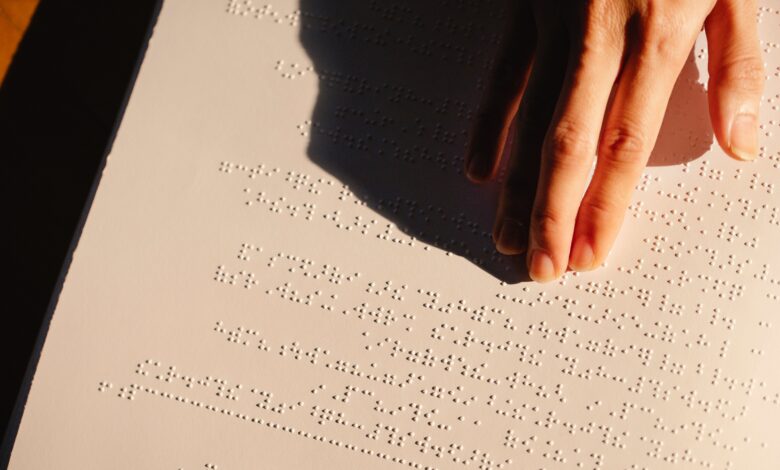 Head of Alexandria Education Directorate Mohamed Saad inaugurated the first e-library for the blind and visually impaired people of Egypt at Al-Noor School for Girls.
The library includes six Braille one-line devices and a smart TV screen that was provided to the library through donations as a nucleus for the first e-library in Egypt to serve the blind.
It is a smart e-notebook with e- Braille cells that enables the blind student to write and read in Braille easily and conveniently.
It is also possible to display an entire library on the device that can be browsed in Braille and connected to a computer screen for viewing as a Word file. The device converts Braille files to Word or vice versa, which represents a qualitative leap in keeping pace with the technological development in reading and writing Braille.
A video was displayed showing the stages of development of Braille writing, which began with reading at a library using a plastic ruler, followed by the Perkins stage, which entered Egypt in the early 1990's and is still used at Al-Nour schools until now, and then the stage of the Braille one-line device, which allowed the blind to write in Braille as it converts the writing to the sighted line and vice versa.
Books can be downloaded and browsed by the blind on the Braille one-line device. It can also be connected to a Braille printer or a display screen for delivering educational lectures.
Saad said that the government has developed an ambitious program to take care of people of determination and people with special abilities to improve their health, educational and living conditions.
He added many learning resource rooms have been equipped in schools in cooperation with the EU and UNICEF.
Specialists and public education teachers have been trained to raise awareness of inclusion programs, types of education and how to deal with people of determination, in cooperation with Ain Shams University and the Faculty of Kindergarten at Alexandria University.