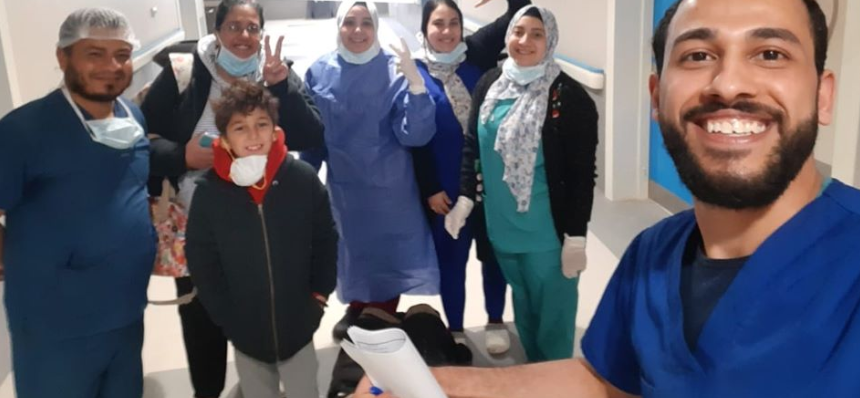 On Monday Egypt announced the successful recovery of its first child infected with coronavirus, and his subsequent discharge from the isolation hospital.
Nine-year-old Adam Mohamed is a student at the City International School in Zamalek who tested positive for coronavirus earlier this month after being infected from his father.
Maha Ahmed, Adam's mother, explained that her husband worked on a Nile cruise ship in Luxor.
The Egyptian Health Ministry on March 6 announced 12 cases of the novel coronavirus on board the cruise ship traveling from Aswan to Luxor.
These cases were of Egyptian workers who were on board the ship and came in contact with a Taiwanese-American tourist who had the virus – Adam's father was among these workers.
During a phone interview with Amr Adib's "al-Hekaya" (The Story) TV show, Ahmed said her husband began to suspect he had the virus upon showing the tell-tale symptoms of a severe cough, lethargy, headache and fever.
Tests confirmed his suspicion, she added, leading the family to self-isolate within their home.
"Samples were taken from us, and when we had doubts about ourselves we stayed at home so the infection would not spread to anyone. My husband went to the fever hospital and then to the isolation hospital," Ahmed said.
Following her husband, Ahmed said her son then tested positive for the disease while she and her daughter were negative.
All of them entered into isolation.
"After the test results, we were transferred to the same isolation hospital, and after our arrival, they took Adam with his father to a room while my daughter and I were in another room for the 14-day self-isolation period," she said.
Authorities closed Adam's school on March 13 and imposed self-quarantine measures on its students, teachers and administration for 14 days.
Ahmed said that Adam suffers allergic rhinitis and received coronavirus after contacting his father, but did not show any symptoms.
"The quarantine was a safeguard to us and society, not isolation from the world. Now Adam left the isolation hospital after 18 days, and became free from the virus," she added.
Ahmed also praised the medical stuff at hospital, "the service at Abu Khalifa Hospital in Ismailia was great. The doctors and nurses are very keen to provide health care to patients."