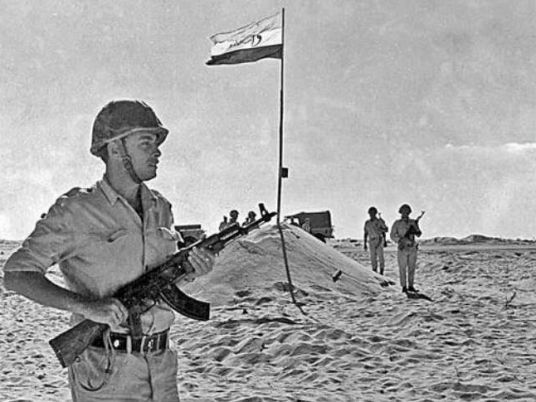 On Monday morning, Mohamed Abdel Salam al-Abbasy, the first soldier to raise Egypt's flag within the Sinai Peninsula during the October War, passed away at 72.
He was among the first batch of soldiers who crossed from the West Bank of the Suez Canal to its eastern side. 
His funeral began at al-Abbasy Mosque in al-Qarin village, Sharqiya Governorate, where a large number of residents of the village and neighboring villages took part.
Abbasy was born on February 21, 1947. He had two daughters and two sons. The first son works as an employee with the Endowments Ministry and the other at Port Said port.
Abbasy joined the armed forces on June 1, 1967 as a member of the infantry. He then moved to the city of Ismailia with his battalion in 1968 to serve in the first batch of forces that crossed the Suez Canal after destroying the strongest water barrier at the time, Barlev Line.
In a previous interview with Al-Masry Al-Youm, Abbasy said that he had won the honor of raising Egypt's flag on the first inch of Sinai that was liberated, adding that he spent seven years in the army, during which he was eager to participate in the war for the Sinai's liberation.
Abbasy said that on October 6, 1973 he joined the vanguard crossing the canal, and it was at that time that the vanguard saw the Egyptian air force squadrons returning after attacking Israeli airports.
"As soon as we arrived on the east bank, we opened fire on Israeli soldiers who were holed up and killed about 30 of them. I opened a gap in the barbed wire that covered the mines, without waiting for the arrival of the military engineers, which facilitated the seizure of the bulwark," he said.
The commander of the battalion, named Nagy, then told Abbasy: "Congratulations, Mohamed. Raise the flag, Abbasy," Abbasy added.
"I went up to the top of the bulwark and ripped the Israeli flag and raised the flag of Egypt," he continued.
During the interview, Abbasy offered a message to Egyptian youth, saying: "You are the hope of Egypt and its bright future and you must be patient, determined and insistent."
"With sincere loyalty and intense commitment to the homeland, security and stability are achieved. We suffered a lot and sacrificed our lives in order for Egypt to live on," he added.
Edited translation from Al-Masry Al-Youm