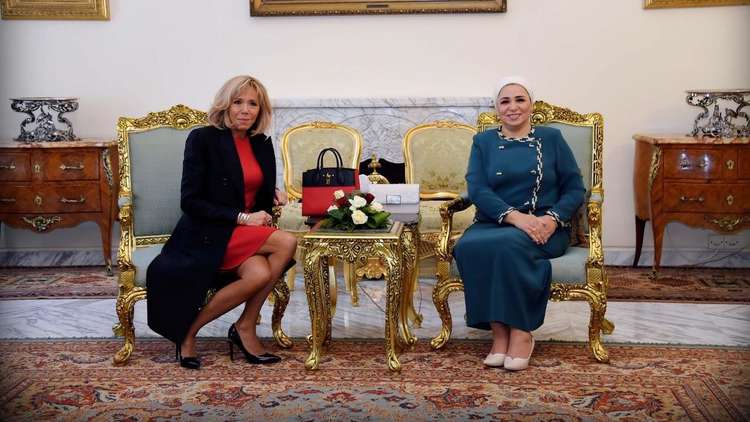 The first ladies of Egypt and France, Entissar al-Sisi and Brigitte Macron, held a meeting on Monday in the al-Ittihadiya Presidential Palace and discussed political, economic, social issues, especially regarding women's empowerment and child care.
The two first ladies also discussed ways of protecting children from ill-treatment and providing preventive solutions for their problems, Egyptian presidency spokesperson Bassam Radi said.
Radi added that Sisi praised her meeting with Macron, mentioning that the Egyptian-French relationship is a historic and close one.
Sisi asserted that the Egyptian people cherish the Egyptian-French relations and respect the French culture, including the ideas of French thinkers and philosophers, which have been key in enhancing the progress of human civilization.
Meanwhile, President Abdel Fattah al-Sisi and President Macron discussed several regional issues on Monday, including the Syrian and Libyan files.
The two presidents signed several agreements and joint contracts in the fields of transportation, education and economy.
They also agreed to increase the volume of commercial exchange between the two countries.
Sisi said, "We lead our country with honor and pride to establish a society suitable for Egyptians," stressing that he aims to move the Egyptian society forward.
Brigitte Macron is traveling with her husband French President Emmanuel Macron on an official visit to Egypt. The two began their three-day visit to Egypt on Sunday at the tourist city of Abu Simbel in Aswan.
The Macrons' visit to Egypt began with a tour inside the Ramses II temple in Abu Simbel. There they listened to an explanation of the history of the temple and its engravings about the wars of King Ramses II and the history of Egypt during that period.
President Macron will meet with Coptic Pope Tawadros II on Tuesday during a visit to the St. Mark Cathedral in Abbasiya, according to a statement from the Coptic Orthodox Church of Egypt.
The visit comes at the start of the French-Egyptian Cultural Year 2019 and also on the occasion of the 150th anniversary of the inauguration of the Suez Canal.
Edited translation from Al-Masry Al-Youm