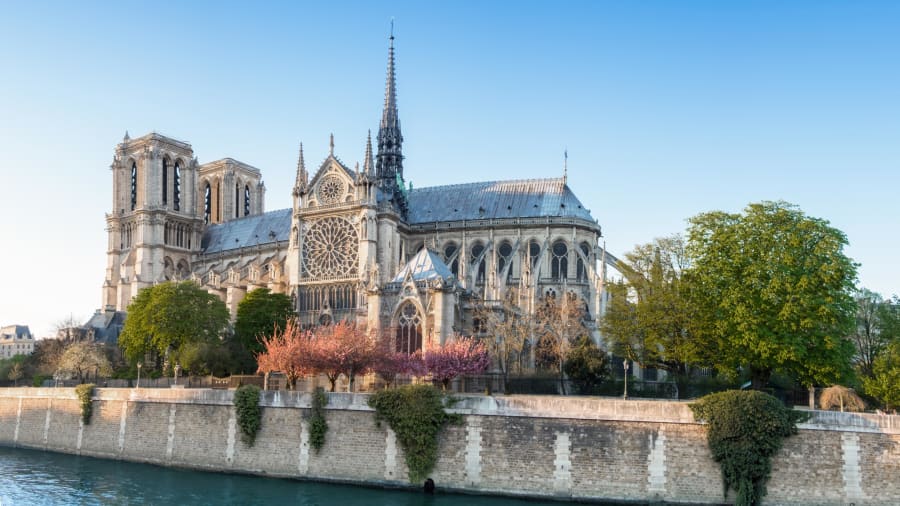 (CNN) — For some folks, April is the month to travel
Something of a mirror image to October, it's a "shoulder season" time as the Northern Hemisphere shakes off winter and the Southern Hemisphere cools off from its summer.
Depending on your destination, you might be able to get off-peak prices while vacationing in lovely weather in April. At the same time, April demands some flexibility from travelers; the month can also bring storms, rains and unpredictable temperatures. But when you get that perfect April day, what is better for travel?
1. Paris
"April in Paris, this is a feeling. No one can ever reprise."
Sometimes, you have to go with a classic, the tried and true. And what's more classic than April in Paris? France's capital delights all year, but spring brings a special charm.
As the month progresses, it tends to rain a little less and warm up. You should pack for both cool and warmish weather and have rain gear for those spring showers.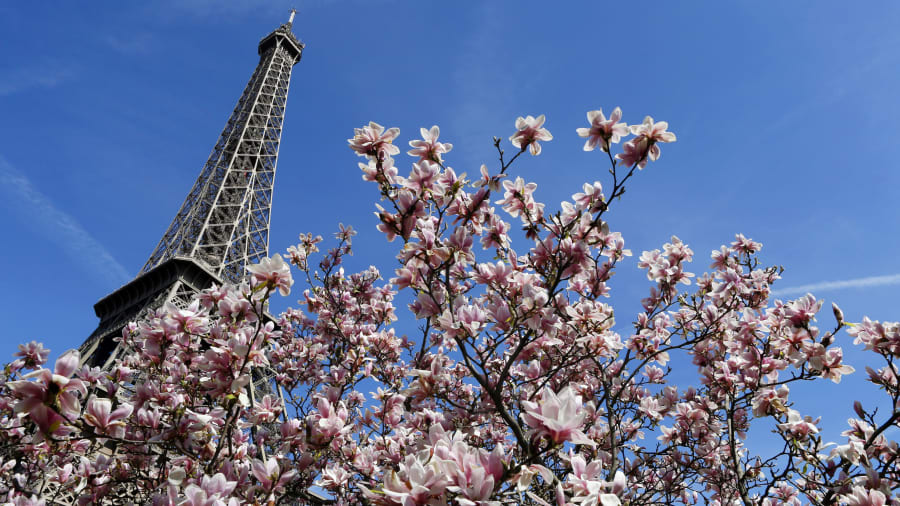 April in Paris: Nothing says spring in Paris quite like vibrant blooms at the Eiffel Tower. Click through the gallery for more scenes of Paris and four more April destinations:
PATRICK KOVARIK/AFP/Getty Images
Here are a few events and places to consider in April:
— Art Paris Art Fair: More than 100 art galleries gather under the glass ceiling of the Grand Palais to exhibit contemporary art. Various countries, regions and continents get a special focus each year, varying from places such as Switzerland to Africa. (April 4-7, 2019; 3 Avenue du Général Eisenhower – 75008 Paris)
— Marché aux fleurs: On the Île de la Cité between Notre Dame Cathedral and Sainte-Chapelle, this flower market has been operating since 1830. (Place Louis Lépine – Quai de la Corse – 75004 Paris)
— Grand Mosquée of Paris: This oasis in the Latin Quarter was constructed in the 1920s and is home to a lush and calming garden. (2 bis place du Puits-de-l'Ermite – 75005 Paris)
— Pere Lachaise: The beautiful cemetery, in a picturesque hilly setting, holds the graves of Oscar Wilde, Edith Piaf, Jim Morrison and other luminaries. (16 Rue du Repos, 75020 Paris)
The AAA's Hall has her own recommendation: "The gardens at the Palace of Versailles are beautiful in the spring. On weekends beginning in April, some of the garden's 55 fountains come to life for a musical fountain show." (Place d'Armes, 78000 Versailles, France)
You may want to visit Parc Monceau in the 8th arrondissement. Ricki Stevenson, who runs Black Paris Tours, says it was a hangout in the 1920s for African-Americans living nearby, including Josephine Baker and Langston Hughes. (35 Boulevard de Courcelles, 75008 Paris, France)
Looking for a great place for French food? Bistrot Paul Bert provides a classic bistro experience. It's noted for its steak frites and apple tart. (18 Rue Paul Bert, 75011 Paris; +33 1 43 72 24 01).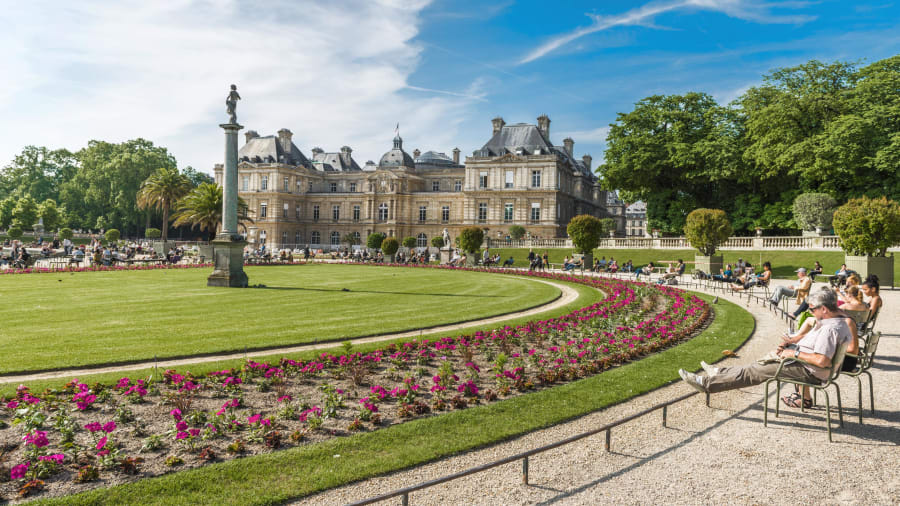 April in Paris: Luxembourg Gardens, in the 6th arrondissement, is a favorite gathering spot for locals and tourists.
Shutterstock
2. Kyoto, Japan
Cherry blossoms could be your reward if you travel to Kyoto in April.
Buddhika Weerasinghe/Getty Images
You can enjoy stunning architectural wonders, delicious Japanese cuisine and geisha culture in Kyoto any time of year.
But it's in early to mid-April (and sometimes the last part of March) that you get to see exquisite cherry blossoms in Japan's historical heart. To gaze upon these sakura at their peak requires both flexibility and planning on your part, as Mother Nature works on her own timetable.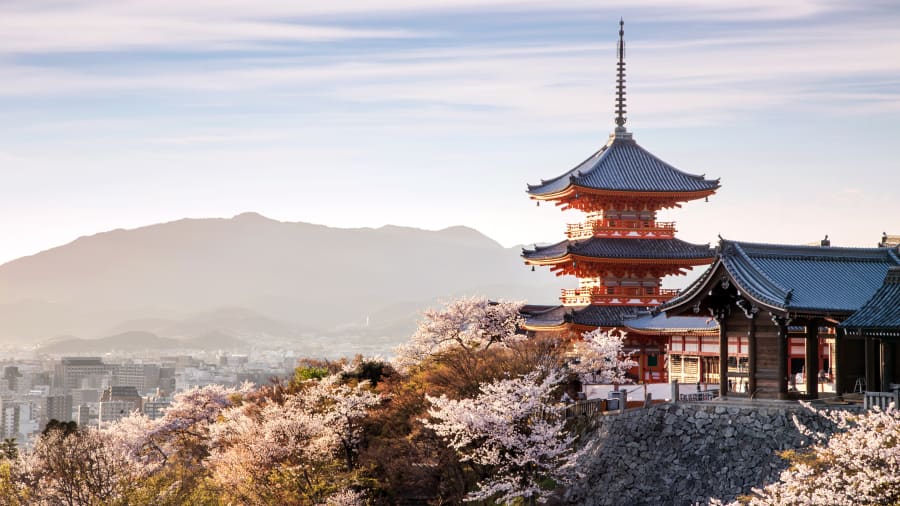 April in Kyoto, Japan: Sunset comes to Kiyomizu-dera Temple during cherry blossom season. The Buddhist site goes back to 780 A.D
Shutterstock
Kyoto is in the southern part of the Japanese island chain, so its blossoms come earlier than places farther north such as Sapporo, where they tend to open in May. You can check websites such as YourJapanJourney.com for yearly predictions.
Here are a few favorite spots for viewing:
— Along the banks of the Kamogawa River.
— Shinto Heian Shrine with its numerous pink weeping cherry trees. (Okazaki Nishitennocho, Sakyo Ward, Kyoto, Kyoto Prefecture 606-8341, Japan)
— Kyoto's Gion district, which is also a prime area for visitors interested in geisha culture.
Should you miss the blooms at their peak — or just need a change of color — dive into the green depths of the Sagano Bamboo Forest. Head there early in the morning and avoid weekends to enjoy a serene immersion. Its growing popularity means big crowds, which there are already plenty of in April.
Another reason to brave the crowds of April: This is prime dance season for the various geisha districts of Kyoto. These performances of timeless beauty are unlike anything you're likely to see again.
For a memorable meal in Kyoto, try Okudan Shimizu. If you're not a fan of tofu, this place will change your mind. The restaurant has had almost 400 years to perfect its art of serving Buddhist vegetarian cuisine. (3-340 Kiyomizu, Higashiyama-ku, Higashiyama, Kyoto 605-0862, Kyoto Prefecture; +81 075 525 2051)
Kyoto is a long flight for travelers outside East Asia. Hall has some tips:
— Consider signing up for Global Entry. That's a US Customs and Border Protection program that allows faster clearance for preapproved, low-risk travelers upon arrival in the United States at select airports.
— Be at the airport at least three hours before international flights. If you're traveling during peak times, you should plan to get there even earlier.
— To ease jet lag, drink plenty of water but avoid alcohol, caffeinated beverages and salty foods.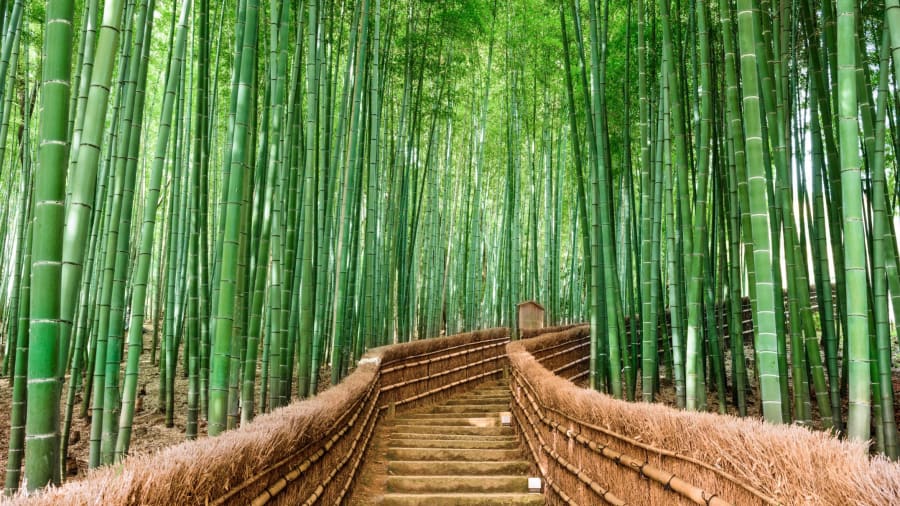 April in Kyoto, Japan: Talk about going green. The Sagano Bamboo Forest just outside the city often makes "most beautiful" lists — for good reason. Read more about the forest here.
3. Austin and San Antonio, Texas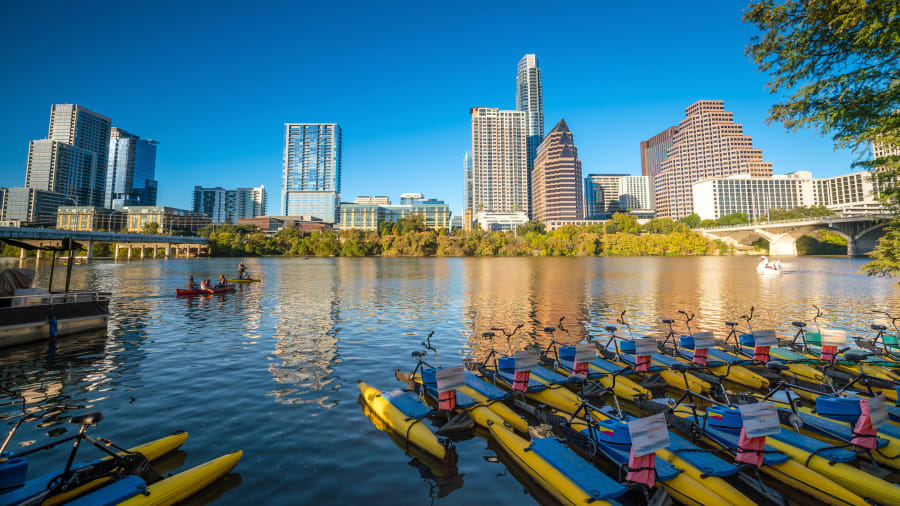 April is a great month to mess around in this part of Texas, because summer comes early and stays late in the Hill Country. In April, it will be nice and warm but probably not too hot yet.
Austin, the state capital, and San Antonio, one of the 10 most populous cities in the United States, are the two major urban draws in the area. Just 80 miles apart, visitors can enjoy two distinct flavors of Texas with very little traveling time between.
Austin
Austin's claim to fame is music and rightly so. If you go in April, you'll miss the famous SXSW festival by a month (it's in March), but don't despair. You'll also miss the packed crowds and can see plenty of great musical acts with less confusion (and probably for less money) in April.
And Austin still doles out plenty of events in April. Here are just a few examples of the cultural riches:
— Poets and poetry fans from around the world come for the Austin International Poetry Festival on April 4-7, 2019, where they enjoy live readings, workshops and more. (Various locations throughout the city)
— The annual Old Settlers Music Festival, southeast of Austin in nearby Dale, has Americana as well as jazz, blues and bluegrass performers. And you can camp there if you like. It's April 11-14, 2019. (1616 FM3158, Dale, TX 78616)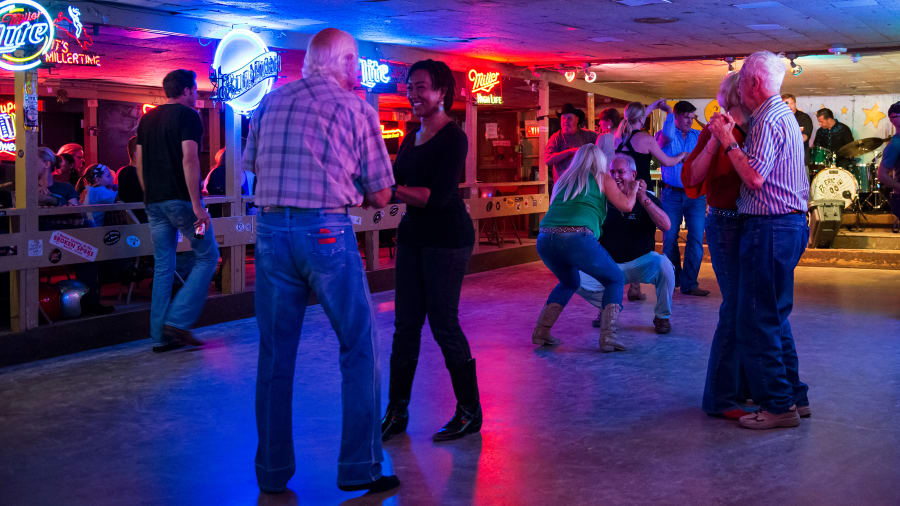 — They pride themselves on weirdness in Austin, so Eeyore's Annual Birthday Party fits the bill: Think acrobats, drum circles, costume contests and the like. The proceeds from the April 27, 2019, event go to local charities. (Pease District Park, 1100 Kingsbury St., Austin, TX 78705)
Even in April, it may get pretty warm in Austin. If you catch it on heatwave, cool off in the always brisk water of Barton Springs, a delightful natural pool in Zilker Park. It's a great place to watch the locals and other visitors enjoying themselves in the Texas sun. (2131 William Barton Dr, Austin, TX 78746; +1 512 974 6300)
Hall points out that April falls within the time for one of Austin's quirkier pastimes.
"From early March through October, watch the flight of more than a million bats from underneath the Ann W. Richards Congress Avenue Bridge" at dusk, she says. The sight is breathtaking, but sometimes the smell of the bat guano can be breathtaking, too.
If you're looking for a dinner-and-music combo one night, try this South Congress Avenue duo:
Guero's Taco Bar is fantastic choice for great food. The El Presidente platter is delicious. (1412 S Congress Ave, Austin, TX 78704; +1 512 447 7688)
After dinner, just walk down the street to the Continental Club for great sounds. (1315 S Congress Ave, Austin, TX 78704; +1 512 441 2444)
You can keep it a South Congress night by staying at the funky Hotel San Jose, which started as a 1930s motor court. (1316 S Congress Ave, Austin, TX 78704; +1 512 444 7322)
In April, Texas Hill Country is alive with bluebonnets and other wildflowers. The Lady Bird Johnson Wildflower Center is a fantastic place to immerse yourself into this annual spring beauty. (4801 La Crosse Ave., Austin, TX 78739; +1 512 232 0100)
These wildflowers further enhance the journey if you take the scenic back roads to the other big city in Hill Country.
San Antonio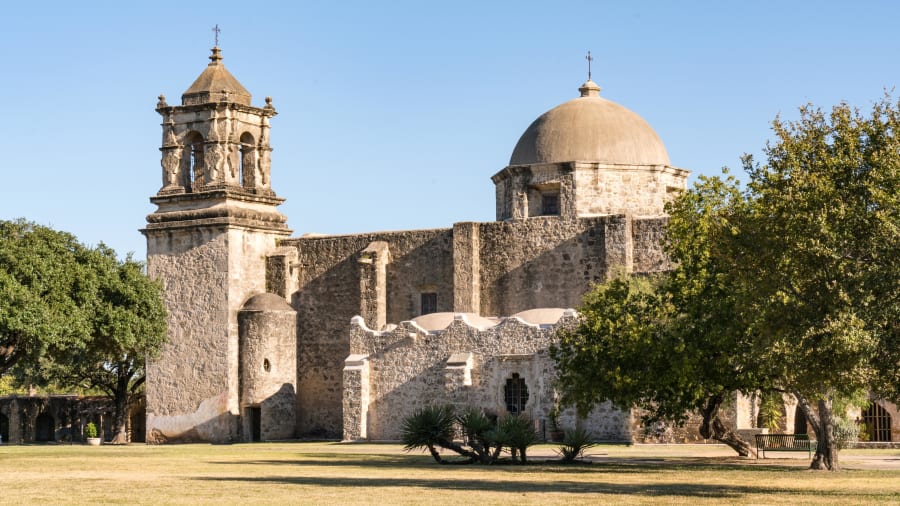 Austin's neighbor to the south is an even bigger city and has a distinct mix of American and Mexican cultures.
And remember, it's home to the Alamo. The historic fort is right in the heart of downtown San Antonio and is one of several mission sites scattered around the city. Check out at least one of four others that make up this national historical park as well. At these, you'll get a better sense of time and place with fewer people. If the Alamo is on your agenda, Hall says AAA suggests going in early to midafternoon when crowds are sometimes lighter.
It's hard to talk about things to do in San Antonio without bringing up its famous Riverwalk. The small waterway winds through the center of the city and is lined with hotels, cafes and entertainment venues. You can take boat rides and enjoy the sights at a slow, relaxing pace.
Here are some annual events in San Antonio and Hill Country in April:
— First and foremost, there's Fiesta, San Antonio's massive, citywide party that starts April 18 and ends April 28 in 2019. You can enjoy mariachis, food tastings, fashion shows, live music, a military parade and more. Anything that says "San Antonio" is here. (Various venues throughout the city).
— If golf is your game, then you can attend the annual Valero Texas Open and see the top pros in action April 1-7, 2019. (TPC San Antonio, 23808 Resort Pkwy, San Antonio, TX 78261; +1 210 491 5800)
— Bibliophiles will want to be here on April 6, 2019, for the San Antonio Book Festival. (Central Library, 600 Soledad St., San Antonio, TX 78205)
— The little town of Poteet celebrates all things strawberry each April if you're in the mood for a smaller Texas venue that also has a carnival, gunslinger shows and rodeo performances. It's April 5-7 in 2019. (9199 N State Hwy 16 Poteet, TX 78065; + 1 830 742 3608)
4. Nicaragua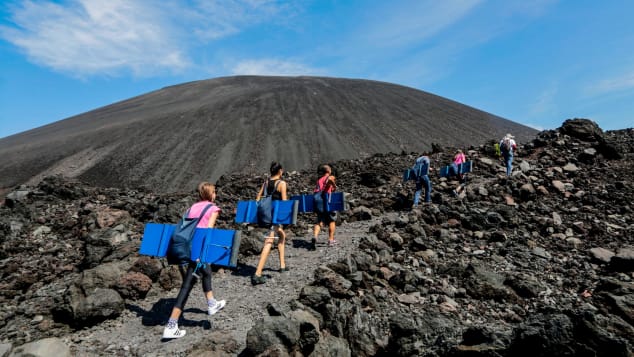 When you have volcanoes, might as well have some fun with them.
INTI OCON/AFP/Getty Images
Nicaragua's time as "best-kept travel secret" of Central America is probably over, but it's still less visited than Costa Rica and Panama if you like to break away from the crowds.
The kind of weather to expect in April depends on where you go.
On the Pacific side, it's the tail end of the dry season. This means crowds may be thinning out after the peak of high season in winter and your outdoor activities won't be spoiled by downpours. On the down side, you won't see much in the way of lush greenery this time of year on this coast (but wildlife is easier to spot).
The Atlantic side of Nicaragua is much more humid and rainy. This is where to head if you're in the mood for a verdant landscape. It's warm to hot most everywhere, but the mountainous interior is relatively cooler.
A popular place for travelers is the country's Emerald Coast. It's a roughly 30-mile span of pristine Pacific coastline and dry tropical forest. You'll find world-class surf here, friendly locals and luxury resorts that have an ecology focus.
History buffs and architecture fans will want to head to Leon, between Lake Managua and the Pacific.
The Cathedral of Leon, finished in the early 1800s, is touted as the largest cathedral in Central America. It was declared a UNESCO World Heritage site in 2011. (Calle Rubén Darìo, Av. Central Nte., León, Nicaragua)
Another city for history and beautiful old buildings is Granada, which rests alongside Lake Nicaragua. Parque Central is a great place for people watching and soaking in the culture.
For travelers who like to snorkel and scuba dive, the Corn Islands off the Caribbean coast may prove to be an irresistible lure. There's a Big one that's more developed and a Little one that's more natural.
You can also take advantage of Nicaragua's volcanic landscape with hiking tours. The really adventurous can even do something called "volcano boarding" at Cerro Negro, not far from Leon.
Hall has some tips for people who might be traveling to Central America for the first time and are a little nervous:
— Check the latest information for Nicaragua on the US State Department website.
— You can go to the travel page of the Centers for Disease Control and Prevention for important health information.
— Consider enrolling in the State Department's Smart Traveler Enrollment Program. STEP helps make it easier for the nearest embassy or consulate to contact US citizens in case of an emergency.
Finally, Hall says to "make extra copies of all travel documents, itineraries and emergency contact information. Leave copies with friends or family back home, and keep an extra set with you in case originals are lost."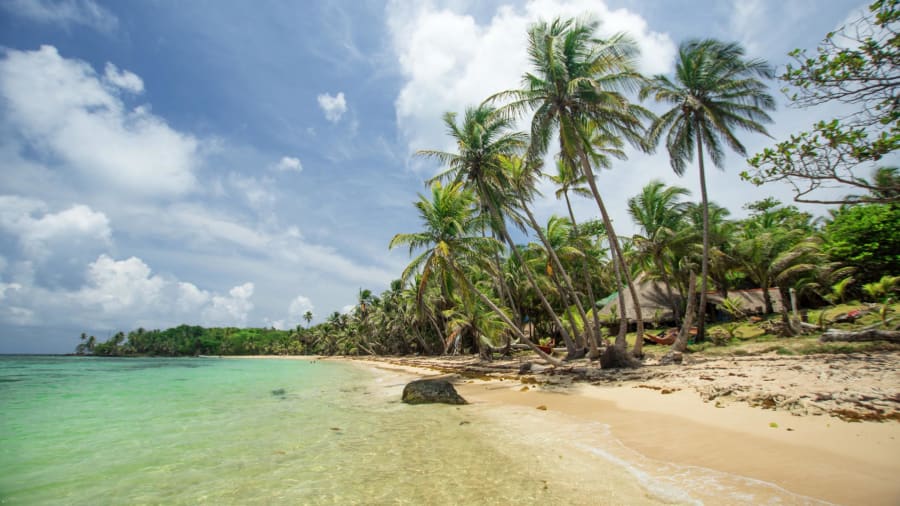 Morocco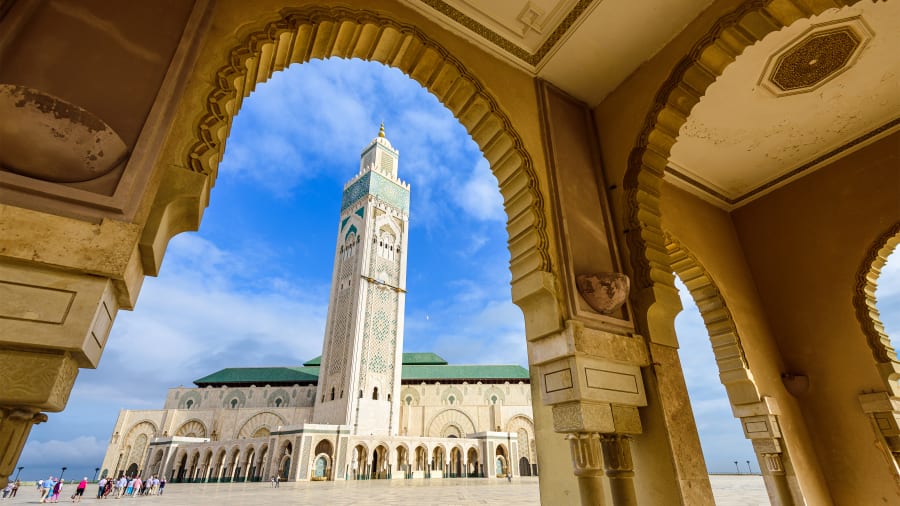 It's one of the most romanticized places on Earth and a whole other world from Western culture. Yet it's just across the Strait of Gibraltar from Spain. (The point: It's easy to get there from Europe).
It's starting to warm up in April. You should expect sunny days with rare showers and cool nights, especially in mountains and the desert interior.
Morocco is a treasure trove of places to go, and Marrakech is at the top of many a traveler's list.
April is a splendid time to wander through its old medina, where you shop for carpets, Moroccan slippers, ceramics and more. Or you can just watch the fascinating parade of people coming through. A few other Marrakech highlights especially nice in April:
— The Jardin Majorelle is a peaceful garden of rare flowers that blends Moorish and art deco features. (Rue Yves St Laurent By A-Maps، Marrakech 40000, Morocco)
— El Badi Palace is in ruins, but there's still enough there for you to glimpse into the past glories of a 16th century sultan's home. (Ksibat Nhass, Marrakech 40000, Morocco)
— A sunset camel ride will leave you with a lifetime of memories. Consult your travel agent or guidebooks for a tour that fits your desires and budget.
Beyond Marrakech, there's so much more to see. Here are some other cities to consider:
— Check out the café culture of Tangiers, a northern port city.
— Fez features an amazing medina and strong reputation among foodies.
— In Casablanca, the impressive Hassan II Mosque is open to non-Muslims. It's set along the sea and can hold around 25,000 people at one time. (Boulevard de la Corniche, Casablanca 20000, Morocco)
If you want to branch out from the cities, you might consider a journey into the Atlas Mountains, where you can trek to remote villages, take in Berber culture and gaze on stunning scenery. Dress accordingly — these mountains have snow.
April is also the time the annual Merzouga festival is held. This part of Morocco is deep in the desert interior, not far from the border with Algeria. The festival is a fusion of culture, art, music and more with aspirations of peace and connecting with nature.
Hall says tourists should "consider seeing Morocco with a private tour guide for an authentic experience. Local guides are usually very familiar with the area and can provide great suggestions."
She also has some clothing tips when you're in Morocco:
— Wear lightweight, modest clothing. For women, a long skirt or pants are most appropriate, with a loose-fitting shirt. For men, long pants and collared shirts are most appropriate.
— When going to mosques and sacred sites, wear modest clothing. For women, wear clothes that cover up to the wrist and ankles and bring a scarf or hijab to cover your hair.
— You will also have to take off your shoes in the mosques. Have something such as a backpack or bag to keep your shoes while walking through the mosques.
"Just like any sacred site, be quiet and courteous to the people and surroundings," Hall says. "In addition, Friday afternoon is a sacred day for Muslims; mosques may be closed to the public or have limited accessibility, so plan ahead."