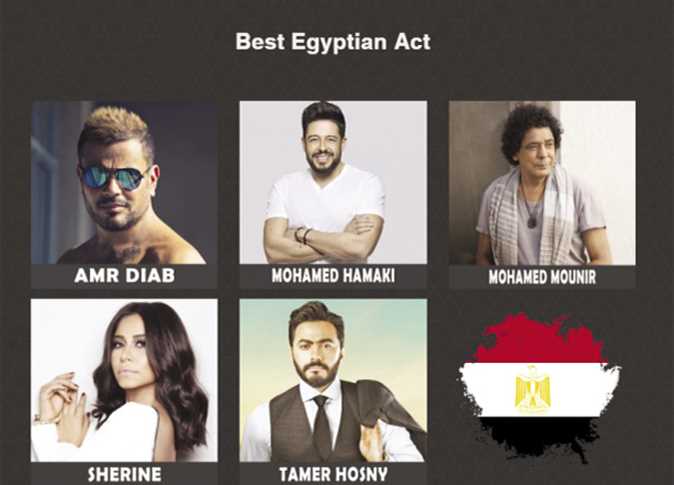 They are the biggest five in Egypt's music industry, and this time they're going against each other. The BAMA Music Awards has gotten the top five Egyptian artists to compete for the "Best Egyptian Act" award of 2018, according to an announcement on BAMA Music Awards 2018 official website.
The competing artists are Amr Diab, Mohamed Hamaki, Mohamed Mounir, Sherine Abdel Wahab and Tamer Hosny.
The category is accompanied by 31 others, all designed to honor the best talents from different regions including: Best Afghan Act, Best Indonesian Act, Best French Act, Best Japanese act, among many others.
Among other prominent Arab artists in different categories are Samira Said and Saad Lemjarred; who are both competing for the best Moroccan act and international stars Cheb Khaled, Saber Rebai and Latifa, all competing for the "Best Algerian and Moroccan Act."
Ahlam, Balqees and Hussein Aljasmi are also possible award recipients, with all of them running for Best Emirati Act along with Fayez al-Saeed and Shamma Hamdan.
Fans will determine the winners in a month through a social media vote, and the awards will be given out at Hamburg, Germany in November.
Nicknamed "al-Hadaba" (The Plateau) to reflect his sheer greatness, Amr Diab has had a long spanning career since he began creating music in 1983. Over the past three and half decades, Diab has managed to stay as one of Egypt's and the Middle East's top singers, winning awards and selling records. In 2009, Amr Diab won four 2009 African Music Awards in the following for Best Artist, Best Album, Best Vocalist and Best Song for "Wayah".
He is also the only Middle Eastern artist to have received seven World Music Awards, among other achievements.
Born in 1975, Mohamed Hamaki rose to fame in the 2000s after releasing his first single in 1997. He then cemented his trip to stardom with "Wahda Wahda" (One Step at a Time), which he tailored for Ahmed Helmy's movie "Ga'alatni Mogreman" (She Made Me a Criminal). Since then, the singer rocketed to fame, receiving prestigious awards such as the  Best Middle Eastern Artist by MTV, the Best Selling Middle Eastern Artist by EMI and also winning MTV music awards as Best Arabic Singer in the Middle East 2010 and Best Singer 2008.
"The King" Mohamed Mounir was born into in 1954 and has had more than three successful decades as one of Egypt's top singers. He is notable for fusing different types of music such as classical Egyptian Music, Nubian music, blues and jazz.
Some of Mounir's top songs are Shababeek (Windows) Lama Al-Nasim Ya'adi (When the Wind Passes) and Albi Masaken Sha'abyia (My Poor Heart).
Born in 1980, Sherine Abdel Wahab left her mark on Egyptian music with her warm voice and popular music. She is also considered one of the biggest contemporary female Egyptian stars.
She began her individual career with successful songs such as "Ah Ya Leil" (Oh Night), which made her a household name, "Kol Ma Aghanni" (Everytime I sing) alongside Tamer Habib and "Masha'er" (Feelings).
Sherine also served as a Jury Member on the show "The Voice: Ahla Sout" until 2017.
Nicknamed "Negm El Geel" (Star of the Generation), Tamer Hosny achieved not only local but international success.
Hosny released his first solo album in 2004 titled "Hob"(Love), where his music video song "Arrab Habiby" (Come Closer my Love), became a great success. He then followed the album with several others that surpassed its fame like "Enayyah Bethebbak" (My Eyes Love You), "Ya Bent El-Eih" (Naughty Girl) leading up to his 11th and latest album "Omri Ebtada" (My Life Began).
Hosny also made a name by collaborating with international stars such as Snoop Dogg, Shagi, Akon, Quincy Jones and RedOne who produced "Bokra", a charity song which saw Hosny collaborate with some of the Arab world's biggest stars.
He's even ventured into cinema, cementing his name as an actor through comedy movies such as Omar w Salma, Captain Hima and Tesbah Ala Kheir (Good Night). Hosny made history by becoming the first ever Egyptian/Arab artist to leave his footprint at the TCL Chinese Theatre in Hollywood, California alongside some of the world's most famous stars.
BAMA Music Awards is an international multicultural music award show created by Daf Entertainment based in Hamburg, Germany. The award aims to "immortalize creativity, unity and enjoyment among the global music lovers until the end of time", according to BAMA Music Awards official website.
In 2016, BAMA awarded Mohamed Mounir a "Legend Award". He is so far, the only Egyptian to win such award.