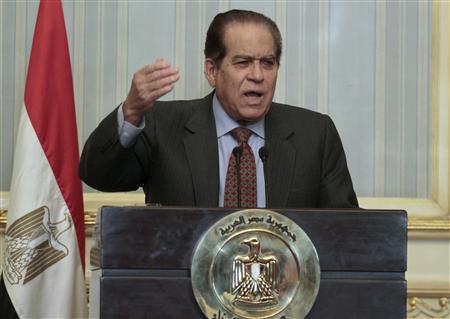 Members of five political parties on Tuesday voiced support for the Freedom and Justice Party's call to withdraw confidence from incumbent Prime Minister Kamal al-Ganzouri and his cabinet.
FJP, the Muslim Brotherhood's political arm, said Monday that its members are inclined toward withdrawing confidence from Ganzouri after his Sunday address to the People's Assembly, Parliament's lower house.
Earlier this month, the FJP and Muslim Brotherhood offered to lead a new coalition government in collaboration with other political forces, but later announced that the ruling Supreme Council of the Armed Forces rejected the proposal.
Party members believe the current government is required to pave the way for a more efficient cabinet. They had vowed to force the government to resign by pressing it with repeated requests to appear for questioning before Parliament.
MP Emad Gad from the Egyptian Social Democratic Party said his party would back a national accord government, arguing that the cabinet has failed to improve security.
MP Hatem Azzam, chairman of Hadara Party, also supported the suggestion, while Adl Party spokeperson Ahmed Shokry said his party was the first to call for a coalition government.
Meanwhile, Wasat Party spokesperson Tarek al-Malt said the Muslim Brotherhood should assume its "nationalist responsibility" and form the government.
Ahmed Khairy, a Free Egyptians Party political bureau member, said his party has called for Ganzouri's removal since the government was first appointed.
The parties' stance is in line with the prevailing tendency inside the assembly. MPs on Tuesday scathingly criticized Ganzouri's address, which was widely seen as weak and failing to provide solutions for the country's problems. During his speech Sunday he spoke of economic obstacles, foreign policy and revolution casualties.
Meanwhile, Mohamed Nour, spokesperson for the Salafi-oriented Nour Party, said his party objects to the idea of pressuring the government to step down.
The leftist Tagammu Party also rebuffed the suggestion. Its vice chairman, Ali Fayyad, said the party fears more chaos will occur if Ganzouri and his cabinet are removed.
Translated from Al-Masry Al-Youm