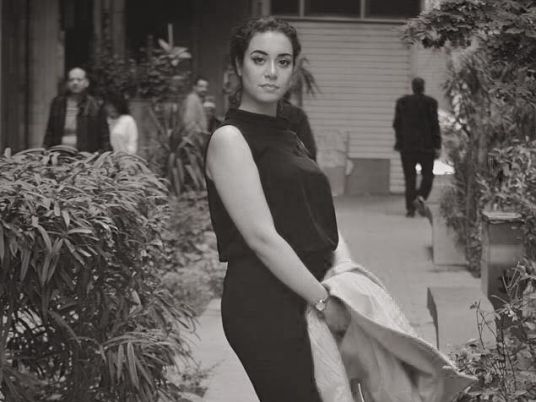 In old black-and-white Egyptian movies, young ladies with fluffy dresses could be seen without fear of endangering their safety but nowadays, with increased sexual harassment rates and a fall-back to old traditions, this scene has faded into Egypt's grey streets.
A social media initiative entitled "dresses of the past when our streets were safe" was launched calling on Egyptian women to dress-up in 1960s style and talk to Egyptian streets as a way to fight sexual harassment in Egypt. "The campaign's main message is to tell the community that the real reason for sexual harassment is not the way the women dressed, as most Egyptians believe. And the biggest proof for this is that the ladies in the 1960s were dressed in short skirts and there was no sexual harassment," the initiative owner Hadya Abdel Fattah told Egypt Independent.
The group of ladies in the session
In the form of a free photo session in Cairo downtown, the initiative was launched on December 8 by 29-year-old feminist and activist Abdel Fattah, along with photographer Gehad Saad, owner of Robabekia photography page.
One of the event ladies, by RobabKia photography
"In the beginning, my plan was to launch different events to raise awarness about sexual assualts, where people can participate and share in discussions; so I launched a wider campaign in June 2016 with three different events in Damietta and Ras Al-Bar city, including a cycling marathon, running marathon and a football match between women and men aimed at combating drug addiction which can lead to sexual harassment," Abdel Fattah said.
During the events, Abdel Fattah noticed from people's discussions that they blame sexual harassment on women's clothes. "Our goal is to break this misconception as now children, veiled women and those wearing Niqab are sexually assaulted, moreover you can find a young teen harrasing a woman, so it's absolutely clear that it is not about the ladies' outfits," she said.
All these reasons enthused Abdel Fattah to launch the dresses intiative and she was searching for a volunteer photographer until she found Saad.
One of the event ladies, by RobabKia photography
To spread the idea, Abdel Fattah created a facebook event calling on Egyptian women to join the photo-session and, surprisingly, it went viral and received hundreds of requests. Unfortunately, the campaign owners did not succeed in getting a license to shoot in Downtown, an area where photography is forbidden due to security reasons; so they had to pick only ten women.
"Any woman who sent us a message to join the event automatically received a few questions about her personal information and the reasons for her interest. Among the most intriguing answers were from a woman whose husband encouraged her to join the event; another one was from a mother who strongly wanted her daughter to join because she misses these beautiful days," she said.
Abdel Fattah pointed that she tried to present all society categories in the photo session including veiled, unveiled, graduates and students, teens and youth. " During the session the passengers were open mouthed wondering what we were doing, some of them believed that it was a movie shooting but the only supporters were the smiles the grey-haired ladies gave to us," she said.
One of the event ladies, by RobabKia photography
Meanwhile, on social media, the campaign was heavily criticized alleging that it incites women to dress up in indecent outfit.
"I'm really upset with these discouraging comments from those who misunderstand the main aim of the campaign. We don't ask the ladies to dress up in short skirts; two of them are veiled. Before the session I asked them to send me photos of their outfit because I wanted variety in the session. I was expecting the offensive feedback," she said.
Moreover Razan Mohamed one of the session attendees and a veiled woman posted her story saying that she is more than proud to become a part of this session; "I'm very happy because I joined the event, I'm a veiled woman and my clothes were long and baggy. I was not worried about being veiled and if the campaign's aim is to dress ladies in short outfits, I would not be one of them, because I'm very proud of my veil," Mohamed said.
Razan Mohamed by RobabKia photography
Mohamed continued "Our message was crystal clear, and it's about combating sexual harassment. Ladies were dressing in short clothes during the 1960s and there were no harassers; but now women are wearing long and more conservative clothes and they are harassed every day. Our message said that the girl's clothes are not the reason behind harassment, but the real one is the way the men are thinking, their mentality and the education they receive in our society," she said.
Abdel Fattah is planning to shoot 45 photo sessions across the country with the same concept, but with more ladies. "My plan was originally to reach all the cities by December 2017 but due to the country's intermittent security issues, the dates may be delayed," she said.