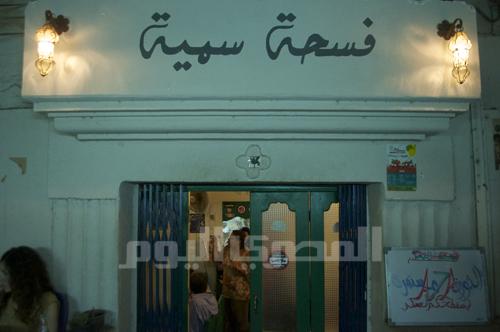 Near Tahrir Square, in the alley between Youssef al-Guindy Street and Mohamed Sidy Street, behind pine-green shuttered doors, lies Fasahat Somaya — a small one-woman, one-kitchen restaurant that serves home-style Egyptian food with a dash of politics and sass.
Loosely translated and widely known as "Somaya's kitchen," Somaya says a 'fasaha,' in Arabic, is "like the living room but a little bit different. It is where people gather to eat and to sit with each other. So this is Fasahat Somaya."
It is not just a restaurant but a place to gather and enjoy the comforts of delectable local dishes with the sound and ambience of Egyptian culture.
Somaya opened her restaurant on 22 October, in the lull between the Maspero violence at the state TV building and the November unrest on Mohamed Mahmoud Street. The walls, decorated with old photographs of Cairo in the early 1900s, are also littered with political posters and pro-revolutionary, anti-military regime stickers. Groups of young men and women sit around the colorful blue and green tables, smoking cigarettes and avidly discussing politics — often with Somaya.
"This political style did not happen on purpose," Somaya says, as old French accordion music plays in the background.
"At the time of the revolution, we used to gather and eat together in the Square. There was a large group of us who would sit and eat 'Somaya's food.' We had a specific spot where we would convene, but we wanted a place where we could eat comfortably, talk comfortably and agree on [politics] comfortably. So my friends pressured me to open up a restaurant," she says.
The political atmosphere — inseparable from her food — was cooked up with the dishes.
Across from Fasahat Somaya is a small cafe with a few green lawn chairs placed outside. People wait for a table to open up while drinking tea and smoking shisha there. The cafe often brings your tea into the restaurant or puts your shisha on hold if you haven't quite finished before a table frees up. The restaurant only holds about 15 people at once, or 20 if customers get creative with seating arrangements.
More often than not, tables are taken by those who have long finished eating but are wrapped up in heated conversation.
It is a real revolutionary home, built by a fiery Egyptian woman with a passion for cooking and a knack for keeping even the shyest eater coming back. She has a solid customer base with no need for advertising.
"I serve a lot of foreigners," Somaya says. "I know that foreigners are always on the lookout. They want to eat good food, they want a place that is clean, they want someone who yells and someone who looks unique and different, like me."
Only a moment earlier, our conversation had been interrupted by Somaya yelling at someone not to come back, chuckling all the while.
"But really, I always say that foreigners know this country better than [Egyptians] do. To begin with, the majority of them come by themselves! No one brought them. They would just be walking around, looking, and so they find me," she says.