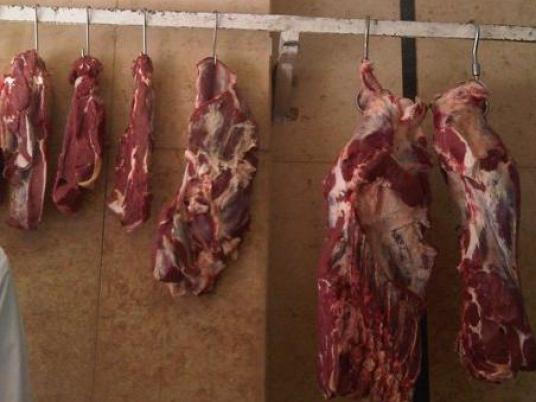 Foot-and-mouth disease continues to spread rapidly throughout various governorates, including Cairo and Alexandria, infecting and killing thousands of cattle.
The General Authority for Veterinary Services on Tuesday said the number of infected livestock rose to 40,222, an increase of 3,144 since Monday. It said 4,658 cattle had died from the disease since it broke out three weeks ago.
Foot-and-mouth disease is a highly contagious viral disease that affects cattle, sheep, swine, goats, deer and other cloven-hoofed animals, causing blisters on the mouth, teats and soft tissues of the feet. Infected animals have difficulty eating and walking. They lose weight rapidly and suffer production loss from which they rarely recover.
Dr. Amr Kandil, head of the Preventive Medicine Department of the Health Ministry, told Egypt Independent that cases of human infection have not been reported.
"Foot-and-mouth disease can't be transmitted from human to human, or through meat or dairy consumption," Kandil said.
People are panicking, even though the Health Ministry has made many public appearances from the start of the epidemic to explain the disease "transparently," Kandil added.
"The government is keen on putting all facts about the current situation in the hands of Parliament," Kandil said, referring to his statement earlier this week in front of the Shura Council agricultural committee, which discussed the latest developments of the epidemic and its implications for the Egyptian economy and national security.
Despite all official efforts to reassure buyers, meat markets were still severely affected, resulting in many closings throughout the country. Gharbiya Governorate has so far been hit the hardest in the foot-and-mouth epidemic, with infected cases reaching 17,678 head of cattle and deaths amounting to 1,876. Daqahlia Governorate follows, with 5,426 infected head of cattle and 439 deaths, according to the General Authority for Veterinary Services.
Mohamed Abdo, a butcher at Baraka meat market on one of Nasr City's busiest streets, told Egypt Independent that sales have plummeted amid fears.
Abdo said he had to buy large quantities of chicken — for which prices have hiked more than 20 percent — due to current high demand. He said he is selling chicken to balance the losses in meat sales.
"The crisis has many dimensions: incompetence of the government in handling the situation and the lack of needed vaccinations, and another side has to do with the media dramatizing the crisis," he added.
Under current laws, livestock owners will not be compensated for the animals that have died, because the law does not compensate for animals that die in epidemics, Agriculture Ministry sources said Tuesday.
Ministry sources previously said Field Marshal Hussein Tantawi had given instructions to compensate livestock owners.
Dr. Hatem Farrag, assistant minister for agriculture for veterinary medicine, told Al-Masry Al-Youm that in the past, "farmers were not compensated for foot-and-mouth disease infections; however, the government is currently considering compensation for farmers."
Although Egyptians are enthusiastic meat-eaters in general, scenes of empty meat markets across Cairo are clearly visible.
Mona Abdel Fattah, a 45-year-old retired teacher, told Egypt independent that it is too risky to buy infected meat, especially in such transitional times.
"Now every ministry is trying to put the blame on the other for the outbreak, so I am looking for other alternatives to get protein from, like chicken, fish or even fuul, until things are clearer."
Abdel Fattah said pervasive and traditional trust issues with the government still persist after the 25 January uprising.
"We still don`t trust what is said by officials, unfortunately," she said.
Foot-and-mouth disease can spread easily to animals if they are in contact with contaminated farming equipment, vehicles, clothing or food.
The World Organisation for Animal Health reported that the disease is mostly non-lethal for adult animals, but causes high mortality rates among young ones.
Although the disease affects cows, it is entirely different from mad cow disease, also known as bovine spongiform encephalopathy. Mad cow disease is believed to be caused by a protein called a prion, which affects the nervous system of the animal and has serious implications for human health.
The foot-and-mouth epidemic started three weeks ago, leading desperate farmers in Gharbiya and other Delta governorates to protest by throwing their dead cows in front of governors' offices to raise official attention about the problem.
Some unconfirmed reports have blamed the outbreak on a shipment of smuggled sheep that came from Libya.
Last week, the Egyptian government suspended its current vaccination program to develop a new vaccine that would stop the spread of the disease. Officials also encouraged farmers to bury the bodies of infected animals instead of disposing them in drainage canals.
The meat industry in Egypt has faced challenges over the past few decades, from increasingly high prices to failure to create a long-term plan to maintain adequate supplies of local beef.
The government's decision to cut loans to farmers has resulted in shortages of cattle in Egypt, and ever-increasing amounts imported from Sudan, the US, Australia and South America.
To some buyers, such as businessman Farrag Mahmoud, the situation changes nothing.
"Most Egyptians find meat very expensive to buy anyway, so with or without the epidemic, they are not purchasing much," he said.