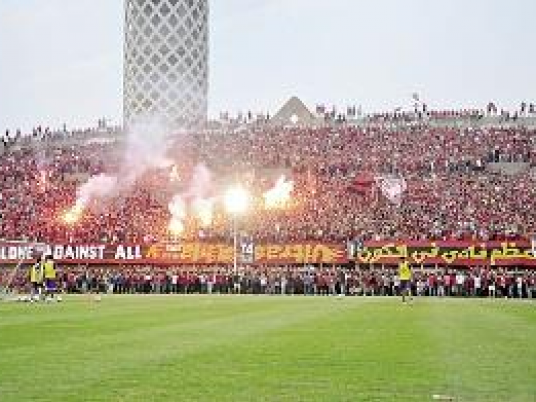 As satellite channels appealed to citizens to participate in the House of Representatives elections, criticizing in particular the absence of youth at polling stations, more than 10,000 young football fans gathered at the Mokhtar al-Touch Stadium at the Al-Ahly Club to watch the football team's first training since it won the Egyptian Super Cup.
The young Ahly fans responded to a short message published on the Ultras Ahlawy Facebook page stating that the training would occur at 4 pm Sunday, coinciding with the first day of the elections.
"Youth now sense no forthcoming hope with the current form of the elections. They are the segment most attacked and accused of treason daily on TV, whether engaged in political or sport activities," activist Khaled Talima wrote on his Facebook account.
Talima added, "How could they trust you and participate in the political process with you?"
Talima said that youth are not the only ones who are reluctant to particpate in the elections, all segments of society are feeling this way.
The youth's reluctance reflects very weak political activity in Egypt, said Fatehy al-Sharkawy, a professor of political psychology and head of the public opinion unit at Ain Shams University.
There is no real opposition due to the weakness of political parties, he added.
The state is interested in establishing major projects like the new administrative capital, which does not reflect the ambitions of the youth, Sharkawy mentioned.
The young men and women have not seen improvement in their living conditions or a decline in unemployment rates since June 30. They are not given channels to express their political views either, he said.
Dostor Party leader Hany al-Gamal, who was recently released from prison over charges of protesting without a license at the Shura Council, said the political atmosphere has become very frustrating in Egypt and people do not feel that the upcoming Parliament will represent them. Not only are youth abstaining from participating in the elections, but all people feel excluded from political life, he added.
People distrust the current regime due to its lack of credibility, Gamal mentioned.
Young people are usually more aware than the older generations, the latter whom have faith in the political leadership and need more time to boycott, Gamal added. According to Gamal, older generations have started to become more aware of the political situation in Egypt, which has been reflected through the weak voter turnout in the ongoing elections.
Edited translation from Al-Masry Al-Youm