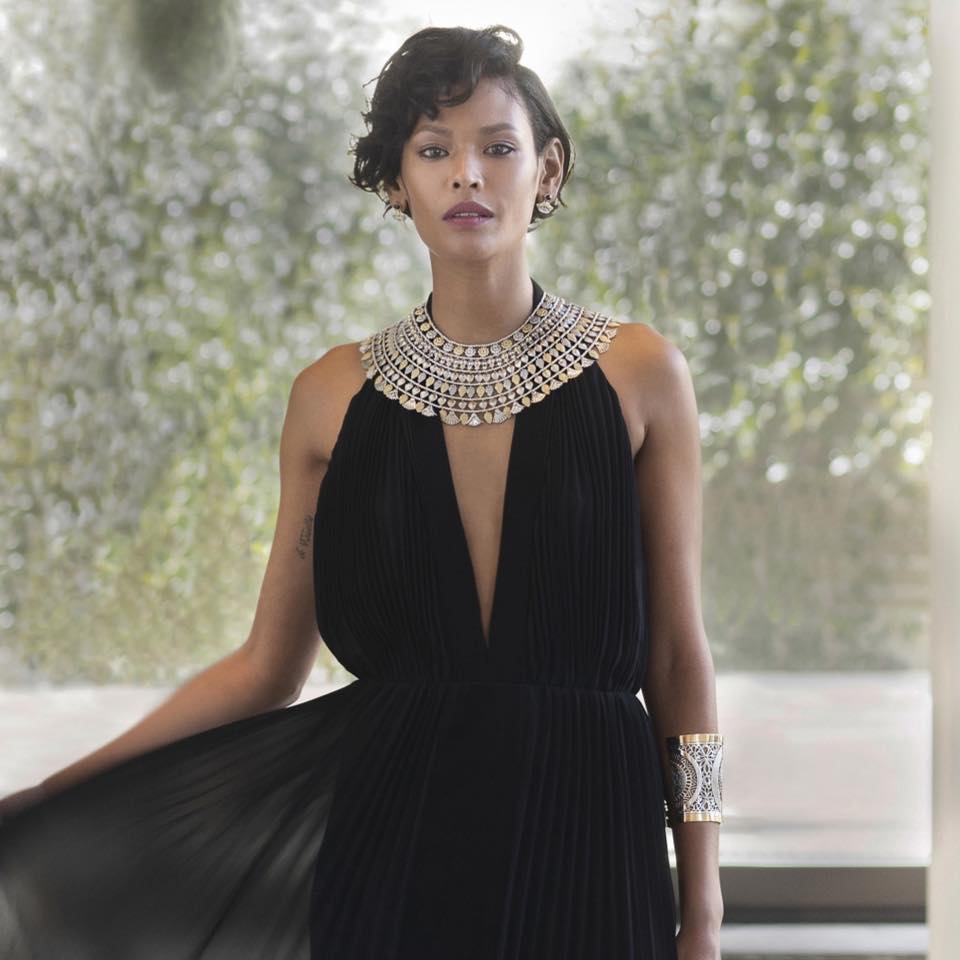 Iconic Egyptian jewelry designer Azza Fahmy, alongside her daughters Amina and Fatma Ghali have been ranked fifth among the top women behind Middle Eastern brands by Forbes Middle East.
For 40 years, the Azza Fahmy Jewlery brand has sought to bring ancient design techniques to the world through beautifully handcrafted pieces inspired by a diverse range of cultures, built upon intense research and the latest design skills.
Fahmy's unique vision as well as devotion to the jewelry world has brought her global recognition, expanding her client list to attract prominent celebrities, fashion designers, jewelry connoisseurs and more to collaborate with her.
Eldest daughter Fatma Ghaly, Azza Fahmy's managing director, is behind the brand's growth over the past decade by transforming it from it's humble local roots to become one of the world's luxurious international jewelry brands, the official website said.
Youngest daughter Amina Ghali, who joined her family's company in 2005, brings in a distinct modern grasp as head designer driven by a passion for jewelry and desire to push the brand forward.
The brand has numerous stores in Egypt located in Zamalek, Maadi, Dokki, Giza, Four Seasons Hotel, North Coast's Hacienda, Alexandria. Fahmy also founded the Design Studio by Azza Fahmy school, a cultural hub located in Cairo that offers workshops for aspiring jewelry artists.
Internationally, the brand is preset in stores at London, Washington, Amman, Dubai and more.
Public figures have worn eye-catching Azza Fahmy pieces while on the red carpet, including international presenter Raya Abirached and award-winning Hollywood actresses Julia Roberts and Amy Adams.
Other celebrities spotted rocking their Azza Fahmy pieces include Naomi Campbell, Nataly Osmann, Nicole Scherzinger and more.
One of Azza Fahmy's more recent collections is the "Nubia Collection", which pays tribute to the cheery and colorful Nubian culture. The collection boasts a spectacular repertoire of 3D rings and earrings which portray Nubian architecture such as houses and gates.
Fahmy is also known for appreciating marginalized Egyptian women through statement pieces including kerdan, and the ubiquitous serpent motif found throughout her "Traditional Collection."
Furthermore, some of her collections honor famous Egyptian artists such as the Umm Kalthoum collection featuring dozens of precious stones, diamonds and gold, crafted with calligraphy of her songs.
Earlier this year, Azza Fahmy exhibited her exclusive hand-crafted collection in the company's first pop-up boutique at the Waldorf Astoria in Beverly Hills, Los Angeles.
The 2019 Forbes list also includes nine other businesswomen including Huda Kattan, Dima Rashid, Reem Acra, and Ingie Chalhoub, among others.
Photo credit: Azza Fahmy Facebook page.