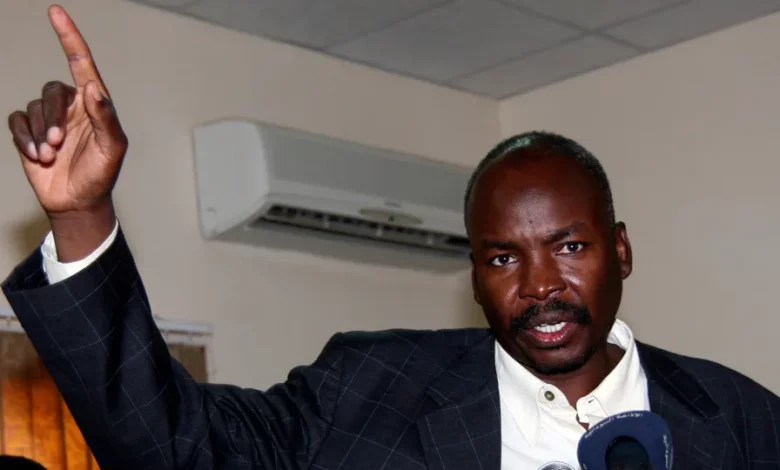 A once powerful member of the former Sudanese government wanted by the International Criminal Court (ICC) for war crimes and crimes against humanity has been freed from prison in the capital Khartoum.
Ahmed Haroun was the head of the ruling National Congress Party and among dozens of Sudanese officials who were arrested in 2019 following a popular uprising and military coup that toppled the regime of former President Omar al-Bashir.
Haroun is charged by the ICC with more than 40 counts of war crimes and crimes against humanity – including murder, rape, torture, attacks on civilians and destruction of property – allegedly committed in Darfur in the early-2000s, while he served as Sudan's State Minister for the Interior and later State Minister for Humanitarian Affairs.
Sudan has been plunged into chaos since fighting between two military factions broke out 12 days ago.
At least 459 people have been killed and more than 4,000 injured, according to the World Health Organization, while parts of the capital Khartoum have become a war zone.
In an audio message circulated on social media on Tuesday, Haroun said he and a number of former regime figures, who he did not name, left Kober prison in Khartoum after chaos hit the facility on Sunday.
Prisoners of Kober prison were released by authorities after inmates protested the lack of food and water by burning two cars inside the prison grounds, two Sudanese police sources told CNN.
Haroun claimed in the audio message he and other figures decided to leave the prison with the help of prison guards and armed forces, and they have been relocated to a safe place. He said he would turn himself into authorities when the situation returned to normal.
Unconfirmed reports claimed the former President al-Bashir was among the prisoners released from Kober prison.
However, the media office of Sudan's Police and sources familiar with the matter told CNN Bashir remains in the custody of the Sudan Armed Forces at a military hospital in Omdurman, west of Khartoum.
Sources told CNN that Bashir was transferred to Alia Specialized Hospital a year ago due to health problems.
"Al-Bashir is still in the hospital, all the former regime leaders were evacuated from Kober prison before the other inmates were released yesterday," the media office of Sudan's Police told CNN on the phone on Monday.
Sudan has been racked with violence since a power struggle between two rival generals spilled into the open, with forces loyal to each man engaging in combat on the streets of Khartoum and in towns around the capital.
Water supplies are scarce and food is "running out" in Khartoum state, a witness told CNN on Tuesday. The WHO also on Tuesday warned of a "huge biological risk" after Sudanese fighters seized the National Public Health Laboratory in the capital.
Countries are racing to evacuate their citizens as an uneasy 72-hour ceasefire, announced on Tuesday, raised hopes that escape routes could be opened for civilians desperate to flee.
The ceasefire appeared to be holding "in some parts" on Tuesday, however, "reports of sporadic shooting are still coming in as well as reports of relocation of troops," the UN Secretary General's Special Representative for Sudan said.
Blame game
Both Sudan's Armed Forces (SAF) and Sudan's paramilitary Rapid Support Forces (RSF) have released statements acknowledging Haroun's audio message and accused each other of helping him to escape.
"Today, the facts were revealed in a blatant manner after the statement issued by Ahmed Haroun, wanted by the Criminal Court, on behalf of the leadership of the defunct regime, who left Kober prison at the hands of the coup forces (SAF)," RSF said in a statement on Wednesday.
In his audio message, Haroun has also urged RSF fighters to join SAF in their fights and praised SAF across the country.
SAF said in a statement Wednesday they have nothing to do with Haroun and are "not concerned with any statements issued by any group or individuals who were released from these prisons in this way, including the statement of Ahmed Haroun."
"We are very surprised that he referred to the armed forces, as they have nothing to do with Ahmed Haroun, his political party, or the administration of prisons in the country that fall under the responsibility of the Sudanese Ministry of Interior and Police," SAF added in the statement.
The UN Secretary General's Special Representative for Sudan warned on Tuesday that "with supply lines running out and destroyed in airstrikes, fear of increased criminality is mounting. Reports of prisoners being released from detention centers across Khartoum have compounded these fears."
Darfur conflict
The conflict in Darfur began around 2003 when several rebel groups in Darfur, a western region of Sudan, took up arms against the government in Khartoum. They had grievances over land and historical marginalization.
In response, the government launched a brutal counterinsurgency operation to target opposition groups but which also reportedly expanded to target tribes associated with the insurgents. The government-backed Janjaweed militia was mobilized to crush the revolt and unleashed a wave of violence that Washington and activists said amounted to genocide.
The UN estimated that 2.5 million people were displaced and 300,000 people may have died in the Darfur conflict, although experts say that figure has likely risen since then.
Sudan's then-President, Omar al-Bashir, was charged with war crimes and crimes against humanity by the ICC, including genocide, related to the Darfur conflict in 2009.
Under his 30-year iron grip an entire generation grew up in the shadow of war, where the threat of torture in infamous "ghost houses" was never far away, and press freedom was nonexistent. He was ousted in a military coup in April 2019 following a lengthy popular uprising and jailed in Khartoum.
Haroun was among the senior leadership in Bashir's regime and was sanctioned by the US government in 2007.
At the time, the US Department of the Treasury said Haroun acted as a liaison "between the Sudanese government and the Government-supported Janjaweed militias, which have attacked and brutalized innocent civilians in the region."
While serving as State Interior Minister, Haroun "played a central role in coordinating and planning military operations in Darfur between 2003 and 2005," the statement said.
The US Treasury Department said Haroun was also responsible in the 1990s "for massacres in the Nuba Mountains and was nicknamed 'the Butcher of Nuba'."
Haroun has previously denied the ICC charges.
CNN's Richard Roth, Mia Alberti, Eyad Kourdi and CNN journalists in Sudan contributed reporting.