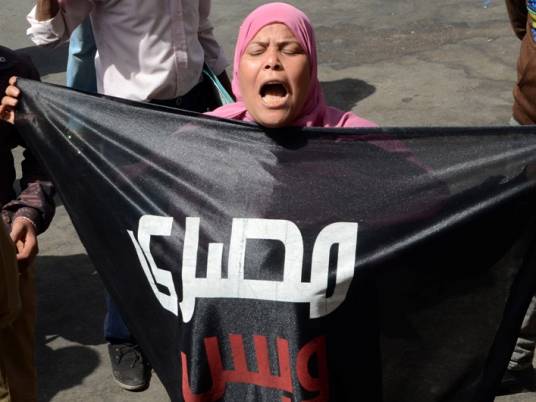 Four people were arrested Thursday on charges of being among dozens of assailants that stormed Tahrir Square at dawn that same morning, attacking protesters and opening the square for traffic.
Security sources said the four were in possession of a gun that could fire bird shot and a knife.
Eyewitnesses said that more than 100 people, some of whom were armed, riding motorcycles and pickup trucks stormed the square from the direction of Talaat Harb Street.
They set fire to tents, while chasing and beating protesters.
A security source said two brothers were driving in the square when they were attacked by a group of people armed with firearms and knives, who then proceeded to smash the brothers' vehicle.
One of the brothers was stabbed in the face, while the other was hit with bird shot in the neck, arm and shoulder.
They later filed a complaint with the Abdeen police station.
Security forces had briefly opened Tahrir Square for traffic on Wednesday, removing barbed wire and iron barriers blocking the road.
But the square was closed again later that day when protesters replaced metal barriers and razor wire at the entrances, all the while chanting against the Interior Ministry and President Mohamed Morsy.
Traffic was jammed in surrounding roadways, with Bostan and Qasr al-Nil Streets once again seeing two-way traffic, as has been the case since the closure of Tahrir Square to traffic since November.
On Wednesday, security forces arrested 53 people on charges of arms possession after protesters allegedly hooked sacks filled with iron to electrical wires near the Arab League of Nations building to shock security forces if they attempted to open the square.
Street cleaners also removed the burned husk of a police vehicle torched in the square.
Edited translation from Al-Masry Al-Youm