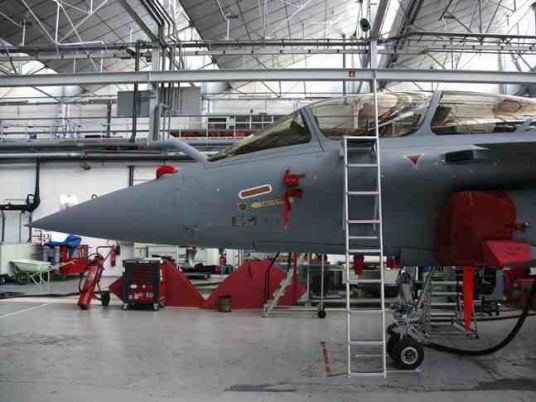 France is in the "final stage" of negotiations to sell up to 36 Rafale warplanes to Qatar, a senior French source involved in the discussions said on Tuesday.
Manufacturer Dassault Aviation is also in talks aimed at supplying 16 of the multi-role combat jets to Malaysia and has resumed discussions over potential fighter sales to the United Arab Emirates (UAE), the source said.
"The discussions (with Qatar) are at the final stage," the source said, asking not to be identified because of the sensitivity of the discussions.
Dassault Aviation declined to comment.
Analysts say the French company was boosted this week by a long-awaited first export deal for the Rafale with Egypt, but is likely to face intense competition for further sales as European, U.S. and Russian rivals step up export campaigns.
It was not immediately clear at what level talks with UAE were taking place, nor which side had initiated them.
The UAE publicly rebuffed an offer to supply 60 Rafale jets in 2011, calling the proposal "uncompetitive and unworkable".
Western defence contractors including Dassault, the four-nation Eurofighter consortium and U.S aerospace group Boeing are chasing overseas sales to prevent their production lines halting due to cuts in domestic defence budgets.
Tensions in the Middle East, instability in eastern Europe and concerns in parts of Asia about regional border threats and the rise of China have further fuelled the arms race, but shifts and sudden reversals in the various industry talks are common.
France said last June it was confident of winning a deal soon to supply fighter jets to Qatar, which is shopping initially for 24 jets plus 12 options to expand its air force.
Competitors include Boeing's F-15 fighter jet, while the U.S. manufacturer is also seeking sales for its declining F-18 model, which is reportedly in consideration in Malaysia.
Elsewhere in the Gulf, the Eurofighter and F-18 are competing for a possible Kuwaiti deal for 28 jets but the Rafale is not a leading contender there, according to French media.
The latest upbeat French comments come ahead of arms fairs in India, UAE and Malaysia within the next month starting with the biennial Aero India exhibition in Bengaluru from Wednesday.
India picked the Rafale three years ago over the Eurofighter Typhoon — built by Britain, Germany, Italy and Spain — for a contract to supply 126 planes, but a deal has not been signed.
India's Business Standard newspaper reported this week the contract was "effectively dead" due to disagreements over price.
But the French source indicated that Paris was optimistic that this week's sudden and unexpected deal with Egypt could speed up several other sets of talks, including those in India.
"The contract with Egypt could unblock three or four other ones," the source said.
Bilateral negotiations between Egypt and France took only five months, taking competitors and most industry experts off guard. Three jets a year are expected to be delivered to Egypt in 2015, 2016 and 2017 with the remaining 15 sent by mid-2019.
There was no formal competition, though one defence source said there had been exploratory contacts between Egypt and the Eurofighter consortium but that questions had arisen over the availability of rapid export licences from Britain and Germany.
Eurofighter said it was confident of winning other orders. A spokesman said it had also submitted an offer to Malaysia.
Egypt, which has been drawn into open military action in Libya after the beheading of Egyptian Christians this week, is also said to be interested in military transport aircraft.
It currently operates the Lockheed Martin C-130 and is the largest customer for the Airbus Group C-295, while it has long been a target for the Airbus A400M airlifter.