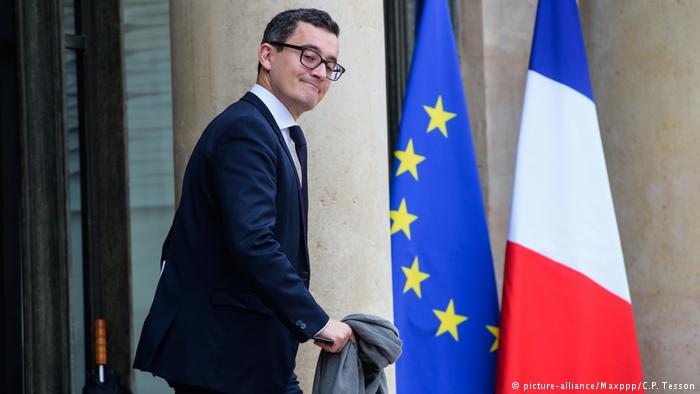 French prosecutors have reopened a probe into allegations of rape involving Budget Minister Gerald Darmanin. He denies any wrongdoing, and cabinet colleagues have rallied around him.
France's 35-year-old budget minister and Cabinet high achiever, Gerald Darmanin, has been accused of rape in a case dating back nearly 10 years.
Police have resumed an investigation into allegations of sexual harassment filed by 46-year-old Sophie Spatz, a former call girl.
She made a first complaint against Darmanin last year, but the case was closed soon after when she did not attend questioning by police. In mid-January, she renewed her complaint, triggering a reopening of the case.
She alleges that he pressured her into sex in return for promising to help clear her name in a legal dispute.
Darmanin has denied the allegations, admitting though that he has a reputation for being an insistent flirt and for "sending a few persistent text messages."
Darmanin's lawyers have spoken of a "crude attempt to harm" the minister's reputation and said he was suing her for slander.
Cabinet support
Fellow Cabinet ministers have also tried to defend Darmanin, with Prime Minister Edouard Philippe saying that he still had his "full confidence."
Justice Minister Nicole Belloubet said on RTL radio that Darmanin "can stay in the government" as long as no charges are brought. Agriculture Minister Stephane Travert said on BFMTV that his colleague should enjoy "the presumption of innocence."
Darmanin, who was appointed Budget Minister in May 2017, is a conservative politician with working-class roots. He was expelled from the conservative Les Republicains party last October for his decision to join French President Emmanuel Macron's En Marche movement.
The accusations come amid a plethora of accounts of alleged sexual harassment by women in the film industry and elsewhere, sparked by the#MeToo Hollywood campaign.
French actress Catherine Deneuve recently sparked outrage by being one of the 100 signatories of an open letter published in French daily Le Monde, which called the #MeToo movement "puritanical" and denounced it as a "witch hunt."