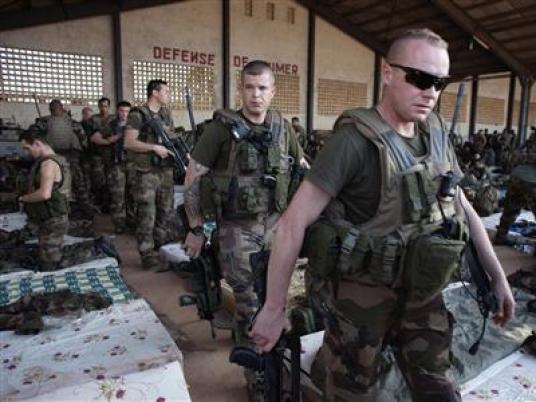 NIONO, Mali – French troops in armored vehicles advanced on Sunday towards a central Malian town abandoned by Islamist rebels after days of air strikes, moving cautiously for fear of guerrilla-style counterattacks by the al Qaeda-linked fighters.
Television showed the wreckage of the Islamists' white pick-up trucks, some mounted with heavy machine guns, lying charred and twisted among the mud-brick buildings of the village of Diabaly.
Commanders of French and Malian forces, who have set up their operations centre in the nearby town of Niono, some 300 km (190 miles) northeast of the capital Bamako, said the whereabouts of the Islamist fighters remained unclear.
"Our principal concern is that a section of the population may have joined the jihadists," said Colonel Seydou Sogoba, head of Malian military operations in the area.
"The war against the Islamists is not an easy one. They come in and mix with the local population," he said.
Some Islamist fighters had shaved off their beards and swapped their robes for jeans to blend in with local residents, he said.
France has deployed 2,000 ground troops and its war planes have pounded rebel columns and bases for 10 days, effectively halting an Islamist advance on the riverside capital.
French intervention was aimed at stopping the loose coalition of Muslim militants from using Mali's north as a training ground and springboard for attacks in Africa and on the West.
The Islamist alliance, grouping al Qaeda's North African wing AQIM and home-grown Malian militant groups Ansar Dine and MUJWA, has imposed harsh sharia law in northern Mali, including amputations and the destruction of ancient shrines sacred to moderate Sufi Muslims.
In Niono, more than two dozen French military vehicles stood in a dusty field outside the headquarters of the regional prefect. Some soldiers cleaned their guns and chatted next to their armored personnel carriers. Others bought cell phones, bread and other necessities from a local shop as they prepared for their next move forward.
In Paris, Foreign Minister Laurent Fabius brushed off suggestions that France risked becoming embroiled in a guerrilla war. Islamist fighters have pledged to turn Mali into a new Afghanistan.
"In Afghanistan, there was no democratic regime. Here, there's a democratic regime even if it needs to be perfected," he told a news conference. "The common point is it's a battle against terrorism."
The stakes in Mali rose dramatically this week when Islamist gunmen cited France's intervention as the reason why they attacked a desert gas plant in neighboring Algeria, taking hundreds of hostages. Algeria carried out an assault on Saturday to end the siege and said on Sunday it expected a heavy death toll.
Veteran jihadist Mokhtar Belmokhtar claimed responsibility in the name of al Qaeda for the Algeria attack, Mauritanian news website Sahara Media said on Sunday.
"We are ready to negotiate with the West and the Algerian government provided they stop their bombing of Mali's Muslims," Belmokhtar said in a video, according to Sahara Media.
Slow African deployment
The conflict in Mali and the hostage crisis in Algeria have raised concerns about the radicalization of the broader Sahel region, which is awash with weapons pillaged from the armories of toppled Libyan ruler Muammar Gaddafi in 2011.
At a meeting with ECOWAS heads of state in Ivory Coast on Saturday, Fabius appealed for international help to fund a U.N. mandated African mission to oust the Islamists from the region. A donors conference will be held in Ethiopia on January 29.
Military experts say France and its African allies must deploy ground forces quickly to capitalize on recent gains and prevent the insurgents from regrouping in the desert.
The African deployment is hampered by a lack of transport and supplies, however. Nigeria, Niger and Togo have deployed a few hundred troops and a first contingent of 50 Senegalese troops left for Bamako on Sunday.
Underscoring the scale of the challenge, diplomats said full deployment of Senegal's full contingent of 500 soldiers was being held up by the lack of ammunition for their artillery.
Chad's President Idriss Deby, visiting a battalion of 600 Chadian troops awaiting deployment in neighboring Niger, said his government would do everything to ensure the maximum number of African troops in Mali.
"It's not that we have a lot of soldiers to spare but it's because we want to ensure the maximum number of soldiers on the ground," said Deby, who has promised to send 2,000 soldiers.
Human Rights Watch warned on Saturday it had received reports of serious abuses, including killings, being committed by Malian security forces against civilians in Niono.
Residents in the northern Malian town of Gao on Saturday lynched a prominent Islamist leader in retaliation for the killing of a local journalist earlier in the day, heightening fears of ethnic violence and reprisals following the liberation.