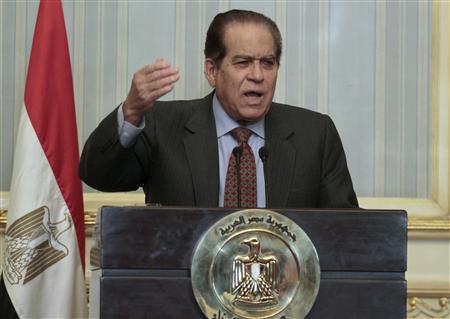 Prime Minister Kamal al-Ganzouri refused to define his Cabinet as "interim" and called on parties and political movements to cooperate during this difficult period of Egypt's history.
While making a statement to the Shura Council on Wednesday during a session devoted to social and economic development plans, Ganzouri said, "Whoever feels that they have not gotten what they want should be patient for a few months for what the executive branch has put in place to be achieved."
He added that the implementation of major projects that were halted under the previous regime would spur development.
Ganzouri went on to list the Cabinet's accomplishments, saying: "We achieved what could not be done in seven months, which could not have been achieved without a divine miracle in a time when we have witnessed mass demonstrations each week and traffic disruptions. There were no resources coming from abroad, and government spending has been reduced to LE20 billion from LE25 billion. We tried to push revenues to LE40 billion. We were able to provide LE5.1 billion pounds to support petroleum products and LE1.2 billion to support food products."
He added that US$100 million was provided during the past two days to procure petroleum products needed for energy during the summer and the month of Ramadan.
Ganzouri said that the budget for this year is the result of the last fiscal year being difficult and full of crises, and that half of the expenditures are intended to go to government employees' salaries.
Ganzouri ignored Shura Council Majority Leader Ali Fath al-Bab's request that he direct a few words to the youth of Egypt who demonstrated across the country. Ganzouri responded that Egypt's youth spearheaded the revolution, which was the will of God. He then asked to be excused to attend a meeting.
Shura Council members praised the performance of Ganzouri and his Cabinet for the fact that he took power during difficult circumstances.
"Ganzouri is not new to us and we've dealt with him directly before. He took over in difficult circumstances when things have been mixed up. Today we are in dire need of everyone using their abilities in the service of the country," Fath al-Bab said.
"God blessed us with the revolution and young people gave their lives for us to take that stand," he added.
Edited translation from Al-Masry Al-Youm