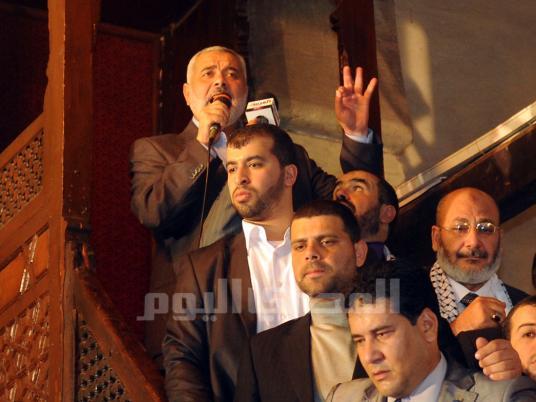 Gaza Prime Minister Ismail Haniyeh praised Egypt's role in serving the Palestinian cause and said that Egyptian President Mohamed Morsy's meeting with Hamas leaders on Thursday was "a fruit of the Egyptian revolution."
Morsy met with a Hamas delegation headed by Khaled Meshaal, head of Hamas' political bureau, in the presidential palace on Thursday. Hamas described the meeting as "historic," adding that it was a warm meeting.
Haniyeh said in a Friday sermon that the Arab revolutions would liberate Palestine from the Israeli occupation, stressing that Israel has no future on Palestinian lands.
He added that a high level of Islamic awareness in the region was behind the revolutions, which would achieve the desires of the people.
Haniyeh announced on Thursday that he would meet with Morsy next week.
Morsy and Meshaal on Thursday discussed Egypt's efforts to support the Palestinian cause, the Palestinian reconciliation process and the establishment of an independent Palestinian state, as well as ways of supporting the people of the Gaza Strip.
Palestinian President Mahmoud Abbas was also in Cairo on a separate trip and met with Morsy Wednesday, amid reports that members of Hamas and Fatah would soon conduct their own meeting.
Edited translation from MENA