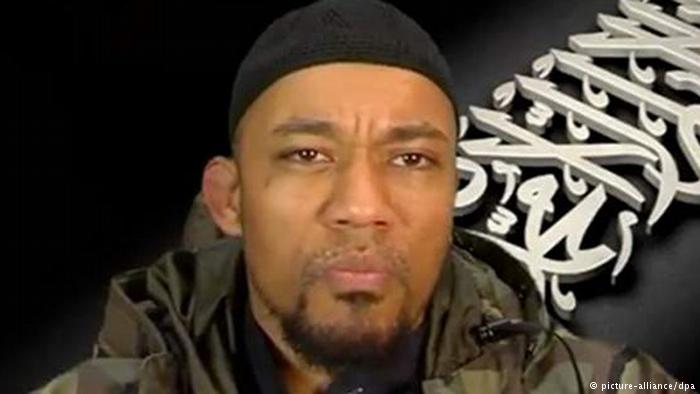 Germany's most well-known jihadi, Denis Cuspert, has been killed in Syria, a pro "Islamic State" (IS) media site has reported. The news site posted pictures of his dead body.
Denis Cuspert, a former Berlin rapper known in jihadi circles as "the German," has been killed in Syria, a pro "Islamic State" (IS) media site website reported.
SITE intelligence group, a US-based company that tracks online extremist media, reported that pro-IS Wafa Media announced the death of the Berlin-born former rapper who used to go by the stage name "Deso Dogg."
Cuspert was previously reported killed by a US airstrike in Syria in 2015, before the Pentagon backtracked and said he was only wounded.
Wafa Media released photos of Cuspert's bloody dead body, saying he was killed on January 17 in Deir al-Zour province in eastern Syria.
Rita Katz, the director of SITE intelligence, wrote on Twitter that although IS did not confirm Cuspert's death, the Wafa report appeared credible.
"Despite there being previous reports of Cuspert's death, this one seems more compelling: various details, photos, etc. Wafa Media's report could very well turn out to be true," she wrote.
Wafa also reported that Cuspert was "massively injured" in Raqqa during a siege led by the US-backed Syrian Democratic Forces, who captured the former IS capital late last year.
It wasn't clear if Cuspert had died from those injuries or in other combat or an airstrike.
IS propagandist
Cuspert played an "effective role in attracting foreign brothers" and in establishing IS' media division, Wafa said.
Cuspert had often called for terror attacks in Europe and appeared to be a spokesman to recruit German-speaking Islamic extremists, sometimes through violent videos.
In a strange twist to his story, an FBI translator reportedly assigned to monitor Cuspert had secretly traveled through Turkey to Syria in the summer of 2014 to meet and briefly marry the Ghanaian-German.
The FBI translator ended up serving prison time under a plea deal when she returned to the United States after having a "change of heart."
The half-Ghanaian, half-German was born in Berlin's Kreuzberg district. After pursuing a rap career for several years, around 2009 Cuspert renounced music after converting to Islam and mingling in Salafist circles.
Around 2012, Cuspert went to Egypt before disappearing in Syria, where he initially joined the al-Qaeda affiliated al-Nusra Front before switching allegiance to IS in 2014.