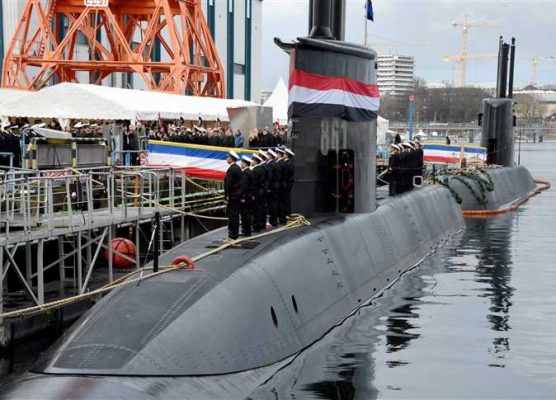 The German S-43 submarine joined the Egyptian Navy in Alexandria on Wednesday, considered as one of the latest type of submarines around the world.
Boasting the latest navigation and communication systems as well as large package of technical and defensive devices, the S-43 ranks as one of the most powerful attack submarines worldwide.
It is provided with systems that control torpedo launches and can sail up to 11,000 nautical miles.
The submarine's hull measures about 62 meters, and is capable of operating 500 meters below the water's surface.
The S-43 includes eight 533 mm torpedoes and a storage capacity of 14 torpedoes. It is capable of launching harpoon anti-ship missiles and planting marine mines.
The submarine, produced by the German company Thyssen Krupp, left Germany on April 14 and officially joined the Egyptian naval fleet on Wednesday through the Alexandria naval base, as part of an ambitious plan to develop the Egyptian Armed Forces.
These submarines come as part of a deal for four submarines signed between the two countries in 2014, the spokesperson for the Egyptian Armed Forces Tamer al-Refai said.
Refai added that Egypt received the submarine after the submarine's technical and specialized crews completed simultaneous training in Egypt and Germany in record time.