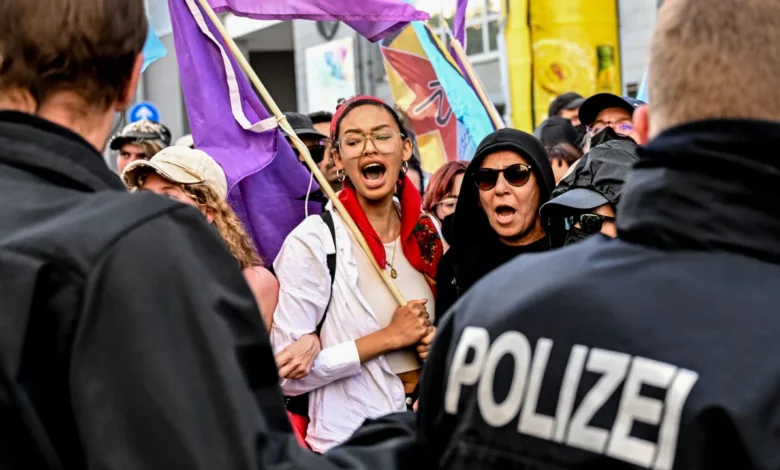 Leipzig police told CNN that they were preparing a large-scale operation to counter any potential unrest. "All the information available to the Leipzig police department suggests that protesters will still gather in Leipzig on Saturday despite the ban," a Leipzig police spokesperson told CNN on Friday, adding that the police was "preparing for potential violence."
The force believes Saturday could be their largest operation in two years. The spokesperson said the police are expecting that protesters from across Europe might travel to Leipzig. "We are still seeing that protests for 'Day X' are being called for on social media."
Around 800 people took to the streets in Leipzig in the immediate aftermath of the court verdict on Wednesday. Some demonstrators tried to break through police lines, throwing bottles, stones and fireworks at officers. A laser was pointed at a police helicopter.
Five officers reported sustaining minor injuries from having objects thrown at them, according to a police statement, and three people were arrested.
As well as in Leipzig, protests are also expected in the cities of Bremen, Hanover, Hamburg and Berlin on Saturday.
Prosecutors call the group 'militant extreme-left'
The group's ringleader, 28-year-old Lina E., was handed five years in prison for her role in the series of attacks in Leipzig and other German cities.
Her three male accomplices, aged between 28 and 37, received prison sentences ranging from two years and five months to three years and three months.
Prosecutors said that Lina E. and her three co-defendants, known as Lennart A., Jannis R. and Jonathan M., are proponents of "militant extreme-left ideology" who carried out attacks on right-wing extremists in Leipzig and nearby towns.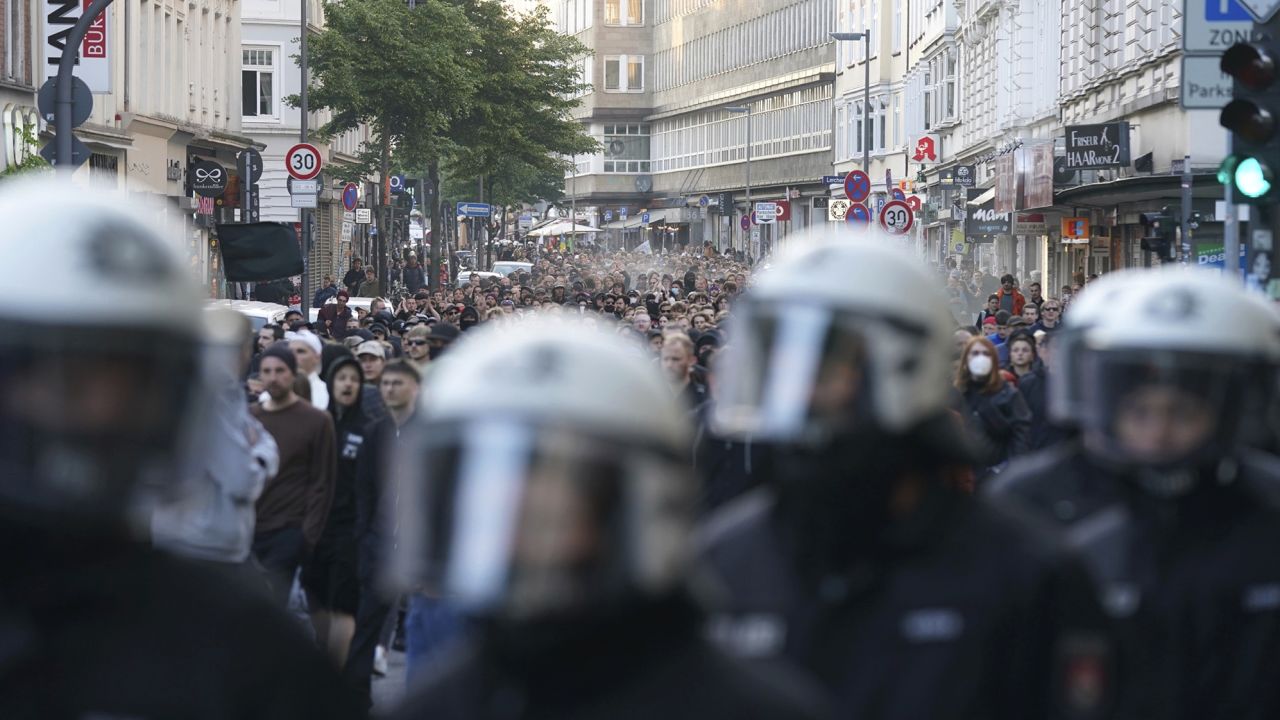 The court found that the four activists spied on and attacked neo-Nazis and alleged supporters of the right-wing scene in Leipzig, Wurzen and Eisenach in the German state of Thuringia between August 2018 and the summer of 2020.
Thirteen people were injured during the attacks, with two sustaining life-threatening injuries.
The Dresden court confirmed to CNN that among the attacks Lina E. helped to orchestrate is a 2020 incident which saw a group of 15 to 20 assailants beat six people returning from a ceremony to mark the 75th anniversary of the bombing of Dresden in World War II – an event which regularly attracts neo-Nazis and other far-right sympathizers.
Prosecutors said several victims sustained serious injuries after being kicked and hit with batons.
The trial against the group THE FOUR? started in September 2021 and was marked by the highest level of security.
The accusations leveled against the group were the most serious faced by Germany's radical left in recent years.
According to a report in The Guardian, during the trial, supporters of Lina E. heckled the judge and shouted "Fascist friends!"
The judge acknowledged that right-wing extremism poses a greater threat to German society than left-wing extremism, but said that even proponents of such views have inherent rights.
Lina E. had been in police custody since her arrest on November 5, 2020 and has become something of an icon among anarchist circles in Germany, with the "Free Lina" graffiti featuring on buildings in Leipzig, Hamburg and Berlin.
"Free Lina!"
Shortly after the verdict, Germany's Interior Minister Nancy Faeser told journalists that the case highlighted the "significant danger" posed by far-left militants, who have become less inhibited in attacking political opponents with "extreme brutality."
In a statement, Faeser said that "this radicalization and spiral of violence must not be allowed to continue," adding that "there must be no room for vigilante justice in a democratic constitutional state."
Faeser added that federal and state police would act decisively if there is a surge in far-left violence in the coming weeks.
The far-right Alternative for Germany party, which has come under its own scrutiny from security services for its ties to extremists, welcomed the verdict by the Dresden court.
In a statement, the party accused Lina E. and her co-defendents of "terrorist methods" and lamented that the sentences weren't harsher.
Meanwhile, a politician for the youth wing of Germany's Green Party, Timon Dzienus, wrote on Twitter that the trial had been a "completely exaggerated process" based on "questionable evidence."
"What nonsense – that's why #FreeLina!" he added.