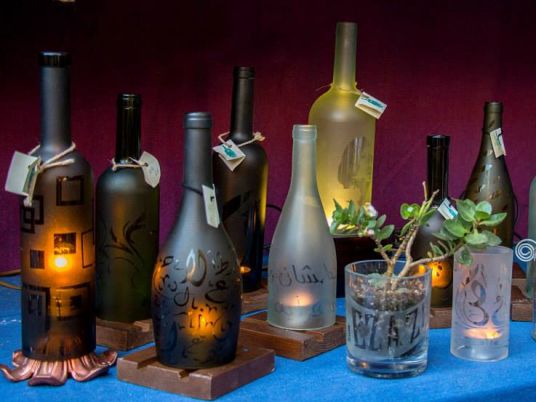 Entering their display area is like taking a step into the mind of an innovative genius. The stimulating ambiance of the shop feels like a museum of eccentric art," Radwa Saleh said the first time she visited Gezazy, a local eco-friendly business in Egypt that delights in the art of recycling by crafting home décor from recycled bottles.
The inspiration for Gezazy came from the shock of seeing the considerable waste from glass bottles in the area of Marsa Allam, along with the influence of the founder's Bedouin upbringing. Mostafa Abdel Maged, Gezazy's founder, became conscious of the huge piles of glass waste that were piling up in Marsa Allam when he worked there in 2008. He was keen to brand a greener change and decided to repurpose the garbage in the streets and encourage others to do the same. Later in 2010, the first ever Gezazy product was produced.
Now competing with high-quality home accessory products in the Egyptian market, Gezazy works to collect used bottles, and fills them up with lights to create impressive cups, lamps, vases and lanterns, with authentic Arabic and Islamic artistic touches.
"Marsa Allam has a big problem with glass bottles," he said. "People don´t recycle glass because the process is very complicated and needs a certain temperature. Instead, they sell the bottles to cities like Cairo and Alexandria. So I thought, why not artistically transform all these bottles and sell them myself?" Abdel Maged said.
Aiming to breathe a new life into the extensive glass trash around Cairo, whose 17 million residents yield around 15,000 tons of trash per day, Abdel Maged hopes to continue raising awareness on how recycling can be low-cost, yet artistically innovative.
"People can use their creative skills to find ways to craft beautiful objects from waste and still earn some extra cash," he said. He added that recycling as an industry is not new to Egypt, as there are many factories for recycling paper, iron and rubber.
"What people found very appealing about Gezazy is the artistic twist behind it, to have decorations or furniture at home made out of unwanted glass waste," he said.
After the glass is collected, designers at Gezazy cut the bottom of the glass and start working their magic. Abdel Maged explained that there are several methods of cutting according to glass types and thickness, including diamond glass cutters, fire, waterjet, and large discs.
"In the past, I was using fire and diamond glass cutters, which had various issues when smoothing [the product] because of the amount of material it wasted in order to achieve a good quality product," he said.
Soon after, Gezazy worked on manufacturing smoothing machines which were not available in Egypt previously. Gezazy has expanded and employs its environmental vision into all-green designed houses made up of recycled wood and glass.  Abdel Maged explained that customers find their products unique yet affordable.
"Many couples reach out to us wanting their homes artistically customized entirely out of recycled materials. It makes me happy that the idea of recycling is starting to become entrenched in people's minds," he said.
Merging art and knowledge with sustainability, Gezazy offers a partition library which is made out of used books and set up in their showroom. It is open to the public to chill and grab something to read.
"Recycling doesn't have to be this boring process that nobody wants to engage in; if you create beautiful things from the items collected, it automatically touches people in a different way that inspires them to reuse for recycling, and that's what our main aim is," Abdel Maged said.