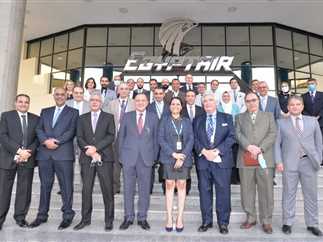 The US GHS company has completed its assessment of all activities related to aircraft operation and services, carried out by the EgyptAir Holding Company and its subsidiaries from October 17 to 20.
The visit was the second evaluation for GHS company this year.
During the closing session, headed by Chairman of the Board of Directors of the EgyptAir Holding Company Amr Aboul Enein and attended by a group of heads of subsidiaries and leaders of EgyptAir, Enein congratulated all the company's employees for passing the evaluation.
EgyptAir is moving at a steady pace towards development and is eager to follow all international standards in all areas of work despite the challenges posed by the COVID-19 crisis, Aboul Enein said.
The company's passing of this evaluation reflects great confidence in the national company and its employees, he added.

GHS also evaluated the EgyptAir Holding Company's management system, aviation-related operations, quality management system, safety management system, security program, data analysis of aviation and flights, ground service operations for aircraft, air cargo operations, and the training system for all employees.
The evaluation ensured that these systems are implemented through an integrated management system to manage potential operational risks.