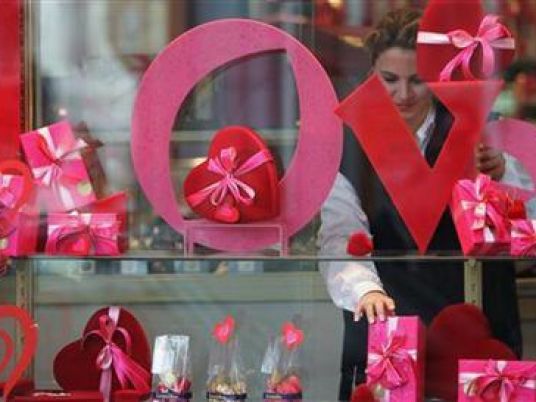 As Valentine's Day on February 14 approaches, gift shops in the Mansheya area of Alexandria prepared themselves for the occasion with roses, hearts, red lips and flowers amid soaring prices compared to previous years.
Teddy bears now range between LE90 and over LE400, depending on color and size, while doll prices reached LE150.
Gift shop owner Mohamed Nour explained: "Prices are high this year, compared to last year, due to the high price of raw materials used in the industry, in addition to creating new gifts such as letters made of orchid wood."
Employee Mamdouh Zayed said "I am eager to buy Valentine's Day gifts for my wife, but prices during the current year are very high."
Pointing out how even teddy bears can cost over LE400, Zayed said that the price of a whole gift after packaging and adding flowers could surpass LE1,000, which he cannot afford.
Another employee, Sayed Abdel Ghaffar, feared that the soaring prices of Valentine's Day gifts would harm the market due to weak purchasing power and citizens preferring to buy necessary goods instead.
He lamented as to how gifts once priced at LE100 are now at LE400.

Student Mohamed Muhareb suggested that these useless and expensive gifts should just be replaced with red roses, which symbolize love – the entire purpose of the occasion.
Egypt also celebrates its own variation of Valentine's Day on November 4.
On November 4, 1988, journalist Mostafa Amin published a suggestion sent to him by some of his readers to specify what Egypt's Valentine's Day should be, so that same day was set to celebrate the occasion.
The historical origin of Valentine's Day dates back to an event that occurred in the third century AD, when Christianity was yet blooming. The Roman Empire under Emperor Clydes II banned soldiers from marriage so they would not be distracted.

Saint Valentine confronted this ruling and held the marriages of young couples secretly until he was discovered and sentenced to death on February 14, 269 AD.
Other tales have the saint being adored by a large number of women, which led to his execution.
Edited translation from Al-Masry Al-Youm