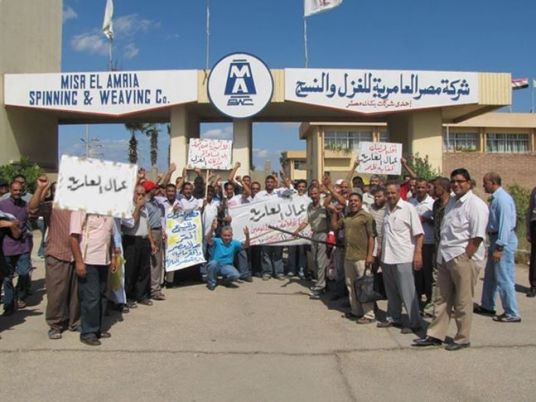 The Cabinet responded to months-long protests by laborers demanding the 10 percent annual bonus announced by a presidential decree.
The Investment Ministry dispatched a letter to the public business sector holding companies promising the disbursement of the bonus. The letter excluded the Misr Spinning and Weaving Company workers in both Mahalla and Kafr al-Dawwar cities, citing losses up to LE23 million incurred due to the workers' strike.
The letter promised to disburse the bonus to workers of the company in the two cities if they could make up for the losses.
A number of labor leaders announced coordination with the laborers of the two excluded factories to stage protests against the Investment Ministry's decision.
Laborers at the two factories told Al-Masry Al-Youm they would continue protests until the bonus is disbursed to them.
Workers at government-run companies have joined strikes over the government's decision to partially withhold an annual 10 percent bonus previously sanctioned by the presidency and regularly disbursed since the 1980s.
Workers at Misr Spinning and Weaving Company in Mahalla declared an open-ended strike on October 21 over the government's decision to backtrack on disbursing a 10 percent bonus for its workers previously approved by President Abdel Fattah al-Sisi.

Workers at Misr Spinning and Weaving Company in Kafr al-Dawwar, Beheira, started a strike on October 25 to demand the disbursement of the bonus, which other colleagues have already received.

Other protests and strikes by workers at other companies followed.
The protests extended to 3,500 workers at supply commodities freight companies, many of whom sent a memo to the presidency asking him to intervene in disbursing the bonuses before escalation.