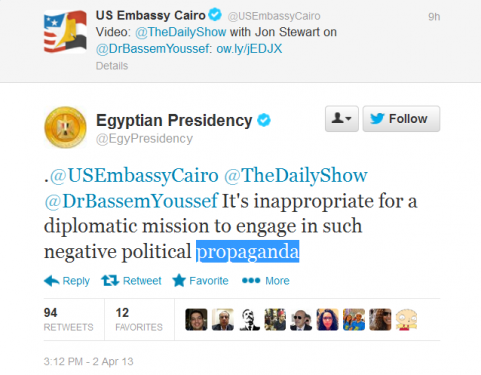 The government fired back at the US Embassy via social network Twitter Tuesday following a post criticizing the arrest of satirist Bassem Youssef.
"It's inappropriate for a diplomatic mission to engage in such negative political propaganda," the president's office tweeted in response to the US Embassy's promotion of a video featuring American comedian Jon Stewart lambasting authorities for cracking down on opposition leaders and media.
The video is an excerpt from Stewart's program, The Daily Show, where he mocks President Mohamed Morsy for targeting satirist Youssef instead of tacking the sexual harassment and assault, rising inflation and 13 percent unemployment.
Stewart concluded saying, "You are the president of Egypt, heir to the greatest civilization in written history. Your people invented civilization, paper, the written language and built the pyramids. What are you worried about, a [comedian]?"
Edited translation from Al-Masry Al-Youm