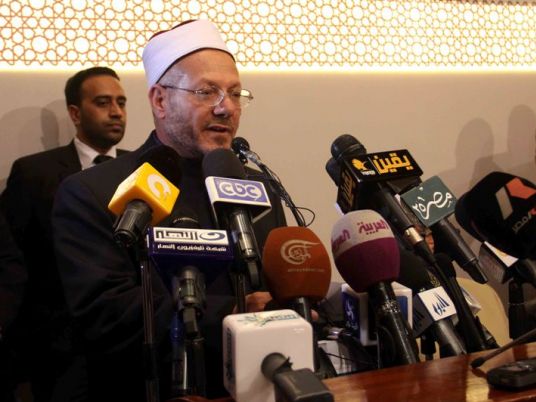 Egypt's Grand Mufti Shawky Allam attributed the high rate of divorce in Egypt to the Khula' law, which was issued in 2002 and allows a Muslim woman to divorce herself from her husband in court after waiving her rights.
Allam added in "Men Maspero" program on State TV Thursday evening that the rate of divorce rose from 6 to 60 percent in the last 50 years in Egypt. He added that the Khula' law contributed to raising this ratio.
Dar al-Iftaa receives 3,200 divorce cases a month. Two or three cases only out of the 3,200 usually have valid reasons for divorce, Allam said.
The fear of President Sisi from verbal divorce is valid, said Allam.
Divorce is a big problem that needs special attention from all religious institutions, centers of social research, sociologists and psychologists in order to search for the causes of divorce and means to address this phenomenon, he added.
Divorce is the final solution to problems between married couples, when it becomes a satisfying remedy to the situation, according to religious texts, Allam explained.
Resorting to the judiciary should be the last resort to resolve marital problems, he pointed out.
Egypt's President Abdel Fattah al-Sisi earlier in January called for a new law tightening divorce procedures for Muslims.
The Egyptian law currently grants a Muslim husband the right to divorce his wife in her absence and without her knowledge. He may initiate and conclude all the divorce procedures himself, only letting her know at the final stage.
Sisi called for a law that requires the husband and the wife to be present in person, at the same time, in front of the Ma'zoun (public notary, marriage official) for divorce to take place, thereby enabling the couple to reconsider, after a verbal divorce. The bill will thus effectively cancel verbal divorce.
The parliament announced it was preparing a bill upon Sisi 's call which caused wide controversy, especially among Al-Azhar clerics, many of whom oppose it.
The divorce percentage is high in Egypt as 40 percent of the 900,000 marriages unions every year end up in divorce within 5 years Sisi said during a speech he gave at the ceremony marking the National Police Day 2017.
Egypt saw about 200,000 divorce cases during 2015, which marks a 10.8 per cent increase in divorces from the previous year, the Central Agency for Public Mobilization and Statistics (CAPMAS) said last year.
The total number of divorces in 2015 reached 199,867 in comparison with 180,244 cases in 2014, CAPMAS said in its annual report on marriage and divorce rates.
The CAPMAS said that the figure for 2015 was the highest divorce rate found in over two decades. The rate reached 2.2 cases per 1,000 people in 2015, which represents an 83 percent rise compared to the beginning of the period 1996-2015, according to the agency.