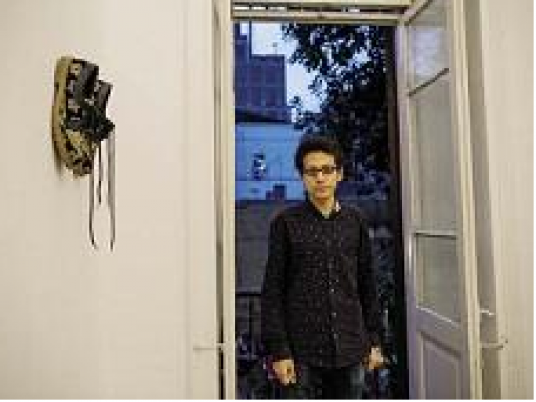 An old photograph, next to a row of shoes hanging on the wall shows a smiling young couple, who seem to be from another era. A young man in his twenties stands in the middle of the room, introducing us to his friends: the shoes hanging on the wall.
"These are made of sheep leather, these of camel leather and these of cow leather," says Ahmed Nagy, a graphic designer and an actor who became a shoemaker.
Nagy graduated from the Institute of Performing Arts, and participated in several Arab and foreign plays. His passion for shoemaking has led him to come back to the profession of his grandfather and become a shoemaker.
Nagy's dream came true at the Townhouse gallery in downtown Cairo, where he held his first shoe exhibition.
"I was going to Townhouse to present my CV as a graphic designer. When they found out I was a shoemaker and saw my works, they insisted that I should have my own exhibition," Nagy said.
Pointing to the picture on the wall, he says: "This is the photo of my grandfather, my mother's father. He was the one who taught me this craft." If it wasn't for his grandfather's insistence to teach him shoemaking, he would not have become what he is now.
"One day I stopped a girl at a metro station and asked her to show me her shoes," he says. "Are you and idiot?" the girl responded. However, he finally convinced her to take off her shoes, took a picture of them, printed it, and hung it beside his bed.
Nagy says he chooses the material of his shoes very carefully. "In Germany I saw a pair of shoes made from an Iranian carpet – the price was 200 euros."
"I thought: why don't we use our Arab heritage in shoemaking?" he adds.
Nagy started to use fabrics bearing Arabic script.
"I buy old jeans and use them in my craft," he says. "I like the shoes to say something about me and I hope one day people will take interest in this type of art," he adds.
Nagy uses a simple stamp bearing his name to mark all the shoes he makes in an attempt to turn his work into a brand name.
Edited translation from Al-Masry Al-Youm