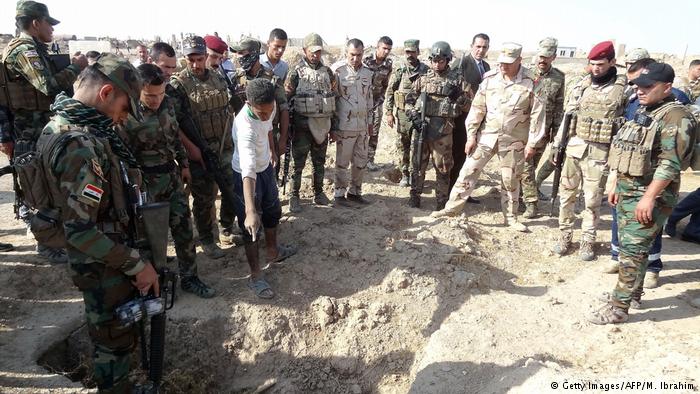 A mass grave containing the remains of at least 400 suspected victims of "Islamic State" (IS) terrorists was discovered in Iraq on Saturday. Iraqi authorities have uncovered dozens of similar sites in the wake of recent offensives.
The gruesome discovery was made at a military compound near the city of Hawija, 240 kilometers (150 miles) north of Baghdad in Kirkuk province.
Governor Rakan Said described the base as an "execution ground" for the terrorists during the three years they controlled the city. The bodies were found "thanks to witness accounts from local residents," an Iraqi general said.
One local resident told French news agency AFP that during the terrorists' brutal rule, it was typical to see militants taking prisoners to the area in trucks.
"They would shoot them and then throw them to the ground or burn their bodies," farmer Saad Abbas said.
Hawija was liberated by government troops in October.
After capturing vast swaths of territory in Iraq and Syria 2014, IS has seen its territory slashed to small and disparate outposts after a renewed push by the Iraqi military, the US-led coalition and other local militias won major victories against the terrorists in 2017.