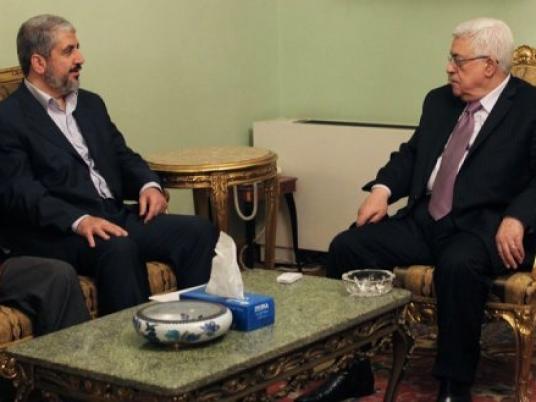 Palestinian president Mahmud Abbas met on Wednesday in Cairo with Hamas chief Khaled Meshaal for talks on the formation of a national unity government, an AFP reporter said.
The long-time rivals have been struggling to implement the terms of a reconciliation deal signed in Cairo in May, which calls for the formation of an interim government of independents to pave the way for presidential and legislative elections within a year.
Representatives from both Abbas' Fatah and Hamas movements have met multiple times to try to hammer out a final line-up for the government and agree on who should head it.
The meeting will "look at ways to implement the deal recently agreed in Doha in terms of forming an interim government, headed by (Abbas). It will be a national consensus government made up of independents," Azzam al-Ahmed, the head of the Fatah delegation, told AFP before the talks.
The job of this government would be to "supervise the rebuilding of Gaza and the overseeing of presidential and parliamentary elections," he said.
Earlier on Wednesday, members of Hamas' leadership said the deal must be implemented in a "thorough and honest" way.
"We stress the need for thorough and honest implementation of the reconciliation agreements of Cairo and Doha to end the division and unify the national front," they said in a statement after meeting in Cairo.
A lengthy disagreement about the post of prime minister appeared to have been resolved in early February, when Abbas and Meshaal signed a deal in Qatar that put the president at the head of the interim government.
The government line-up was to have been announced shortly afterwards, but the Doha agreement was met with opposition from Gaza-based members of Hamas, as well as some officials in the Fatah-controlled West Bank.
The Cairo talks come before Abbas and Meshaal are to take part in two rounds of meetings with the leadership of all the Palestinian factions, including Islamic Jihad, on Thursday and Friday.
It remains unclear when the final government line-up will be announced and elections held.