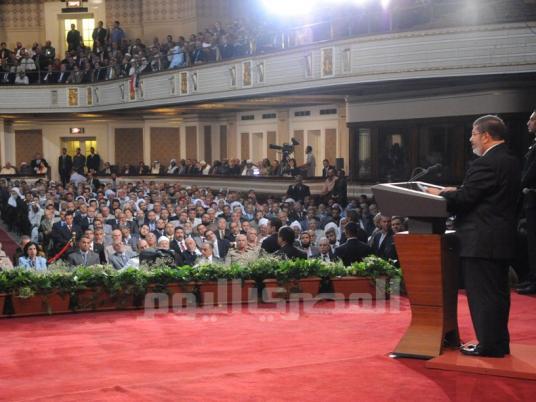 Hamas leader Mahmoud al-Zahar said that President Mohamed Morsy's pledge to the support the Palestinian people in his speech Saturday at Cairo University gives strength to their cause.
Morsy said Egypt would stand by Palestinians "until they receive all their legitimate rights" in his speech.
Zahar praised Morsy for addressing the cause so early in his presidential tenure.
"The Palestinian cause was present in the first of Morsy's speeches after he officially assumed responsibility," he said.
"Morsy's position comes in line with the position of the Egyptian people and their long history of backing the Palestinian cause," he told MENA.
Zahar said he hoped that Egypt's new position would mean that the country would not compromise its principles and that it would support the beseiged Gaza Strip. He said the former regime was biased against certain parties that he did not name.
"The Egyptian people united with the Palestinian people and refused the blockade of and the Israeli war against Gaza Strip and the starving of people there," he said.
Morsy said in his speech after he was sworn in by the Supreme Constitutional Court that"Egypt will stand with the Palestinian people in order to get all their legitimate rights, and will work on concluding the reconciliation so that the Palestinian people unite and restore their rights."
Edited translation from Al-Masry Al-Youm