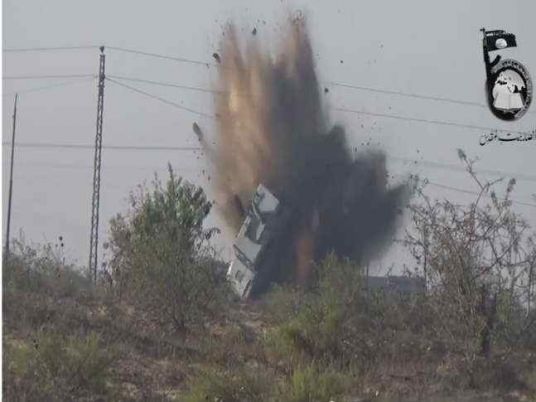 Head of Egypt's Central Security Forces (CSF) in the North Sinai city of Al-Arish, Nasser Al-Husseini, and other police personnel survived on Saturday an assassination attempt that targeted their security patrol, a local journalist told Egypt Independent on condition of anonymity.
According to state-run newspaper Akhabr Al Youm, an Improvised Explosive Device (IED) had been planted on the road of the patrol near the al-Khazan district in Al-Al-Arish.
"The head of Al-Arish CSF survived the assassination attempt with the rest of the policemen who accompanied him. In the aftermath of a massive explosion by an IED, a large-scale sweeping operation was launched to arrest the perpetrators," the journalist explained.
The perpetrators are believed to be members of the Islamic State's Egyptian branch 'Sinai Province' which considers army and police personnel as ' apostates' whom should be killed, he added.
"The security patrol survived the IED explosion when a number of armored vehicles rapidly passed the explosion. This left no injuries or deaths among the policemen present in the patrol" he said.
Since 2013, when the Muslim Brotherhood-affiliated former President Mohamed Morsi was removed from power, the Egyptian army and police forces have engaged in a low-intensity war with various militant groups, most prominently in North Sinai.
The most active militant group in the area has been the Sinai Province, previously known as Ansar Bayt al-Maqdis, which in 2014 pledged allegiance to IS.