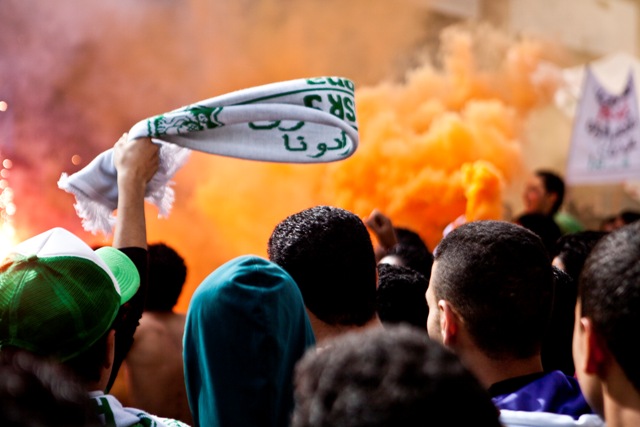 Egyptian protesters demanding the release of prisoners battled police in Port Said for a fourth day Wednesday, challenging state authority in the restive city at the northern end of the Suez Canal.
Violent demonstrations also broke out in Cairo, where protesters threw petrol bombs at police and soccer fans set fire to a security car, in another sign of the insecurity that has plagued Egypt since Hosni Mubarak's overthrow two years ago.
Dr.Yahia Moussa, a media spokesperson for the Health Ministry, said the total number of injuries in the clashes had reached 223, although no deaths were reported, reported state news agency MENA.
The injuries were reported in Port Said, Daqahlia and Gharbiya Governorates.
Health Ministry official Yehia al-Anifi said some 228 people were wounded in fighting in Port Said on Tuesday, including some with live bullets and birdshot.
Port Said has been a focus for violence since January, with people staging angry protests over death sentences handed down to some residents in connection with a football stadium riot in which more than 70 people died last year.
Hundreds gathered again on Wednesday, throwing rocks at police, who fired teargas to drive them back from a local government building, a Reuters witness said.
Army troops tried to separate police and protesters, and at one point a soldier was evacuated in an ambulance after choking on teargas, the witness said.
Many worry the situation will only worsen after another key ruling is made 9 March on the rest of defendants accused of participating in the Port Said football stadium massacre.
"Stamp your foot, shoot your gun, Port Said is free," protesters shouted, demanding the release of several demonstrators detained on Tuesday. "The people want to overthrow the regime."
In response, Central Security Forces trucks patrolled downtown Port Said and fired birdshot and tear gas, injuring dozens of people.
One of the trucks broke through the gates of a tourist resort on Tarh al-Bahr street and drove into the resort. It crew reportedly beat visitors and the employees inside, according to Al-Masry Al-Youm.
Another truck drove to the junction at Mohamed Ali and Thalatheeny streets and fired tear gas and birdshot.
The attacks come after the appointment of new Port Said security chief Sayyed Gad.
Al-Masry Al-Youm reported that security forces' ire was stirred after unknown men abducted Lieutenant Mohamed Mostafa Saleh, who works for the Port Said Security Directorate, assaulted him and stole his weapon before letting him go.
In reaction to the ongoing violence, Islamist President Mohamed Morsy met with police officials to review the security situation, stressing "the importance of concerted efforts to achieve security and protect peaceful protesters while quickly controlling rioters," according to MENA.
At least six people have been killed in this week's protests in the Mediterranean city, including three policemen.
In another sign of the problems authorities face, hundreds of police demanding more weapons after several police were killed in the recent unrest, staged a strike in a base outside Ismailia, roughly 70 km south of Port Said along the Suez Canal.
Fire in Cairo
Protesters also battled security forces with stones and petrol bombs outside Cairo's Tahrir Square Wednesday, the center of the 18-day revolt that ousted Mubarak and a major route for traffic through the capital.
Scores of young men ran back and forth on streets covered with stones as they skirmished with police in the area along the corniche near the US Embassy and a luxury hotel.
In the southern Cairo neighborhood of Giza, soccer fans demanding retribution for people killed in the Port Said stadium riot set fire to a police car, MENA said.
Many Egyptians have been alarmed by authorities' inability to contain unrest and restore security, especially ahead of parliamentary elections that were scheduled to start next month.
"Violence is rising everywhere, about 500 injured in one day without any effort for dialogue by the regime. Is there still a president and a government?" opposition politician Mohamed ElBaradei wrote on his Twitter feed.
Morsy and his Muslim Brotherhood, who have dominated elections since Mubarak fell, have repeatedly called on Egyptians to end strikes, sit-ins and protests to restore stability and help heal the country's ailing economy.
Egypt had planned to begin elections on April 22 for its lower house of parliament, seen as an important step in securing a $4.8 billion loan from the International Monetary Fund to bolster the country's finances as it grapples with sliding foreign currency reserves and a swelling budget deficit.
But an Egyptian court threw that timetable into confusion Wednesday when it ordered the cancellation of Morsy's decree calling the vote.
Some 60 people died during a spasm of country-wide unrest between 25 January and 4 February, with many protesters calling for Morsy to step down and voicing anger over a broader sense of political and economic malaise.