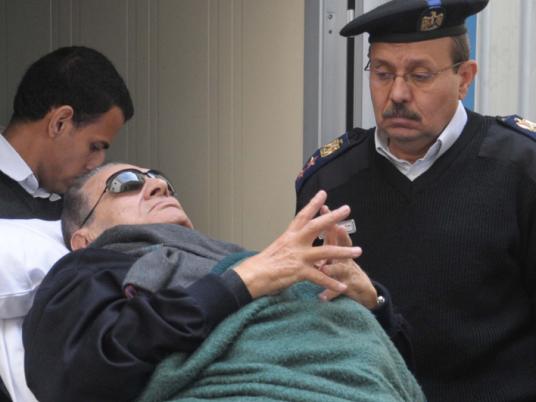 Judges from the High Elections Commission have said that no ballot box can be sent to Maadi Military Hospital so ex-president Hosni Mubarak and his wife Suzanne Thabet cast their ballots on the referendum.
The commission received request from Mubarak, however, law does not allow sending him a ballot box, so long as he can go to a polling station, the judges told Al-Masry Al-Youm, adding that Mubarak is not awaiting trial and that nothing is impeding his movement.
"Despite the challenge posed securing him, if he headed to the polling station, it has nothing to do with the commission but rather the Interior Ministry," one judge said.
Mubarak submitted request on Tuesday an official request to HEC to cast his vote on the constitutional amendments referendum.
Farid al-Deeb, Mubarak's lawyer, said he submitted request demanding his client and wife be allowed to cast ballots. "My client has the right to vote on the referendum, so long as no final verdicts have been issued against him," Deeb told Al-Masry Al-Youm.
Mubarak filed a hand-written request three days ago to officials of the hospital security to transfer him to HEC to cast his vote, according to Deeb. "It seems that the request was lost. We took measures yesterday [Tuesday] to send the official request to vote."
Sources close to Mubarak said he was going to vote "yes" on the draft constitution, adding that Mubarak was keen on participation and that he proposed voting at polling station at his electoral district, if no special committee was made for him at the hospital.
Edited translation from Al-Masry Al-Youm