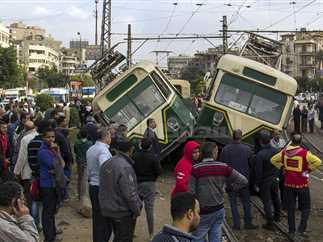 A Monday tram collision in Heliopolis (Greater Cairo) resulted in the injury of one person, who has received hospital treatment, according to Deputy Cairo Governor Ibrahim Saber.
The governor denied reports of other injuries by news outlets.
In a phone call with DMC Channel on Monday evening, Saber explained that the driver of the tram lost control of the vehicle due to a brakes malfunction, cause it to deviate from its path at the end of the line, and collide with cars.
According to Saber, the tram is "very old", but undergoes maintenance periodically. He added that the public prosecution will investigate the incident.
Cairo's tramway network was first installed in the beginning of the 20th century, but government favoring of cars in the 1970s resulted in most of the network's removal.
Today, trams are entirely absent from central Cairo, but continue to operate in Heliopolis and Helwan.
Monday's crash was the first tram accident in recent history.
Edited translation from Al-Masry Al-Youm.