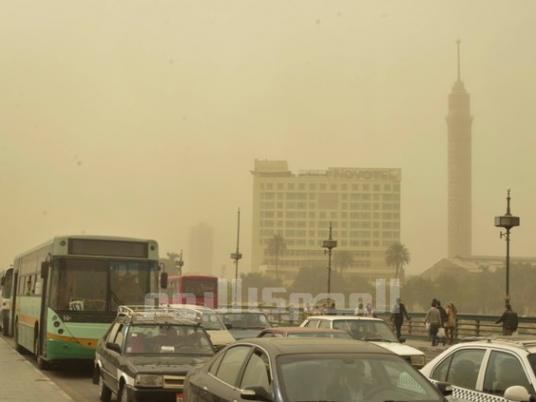 Severe dust storms blustered over Cairo and nearby governorates on Friday, dramatically reducing visibility on the roads.
The Meteorological Authority issued a warning about the strong sandy winds on Thursday. As of Friday morning, the fast, strong winds blew in from the western provinces, north coast and northwestern areas.
The winds reached speeds of 40 knots in the Canal Zone governorates, which also saw high temperatures.
Traffic was disrupted due to the low visibility, but navigation in the Suez Canal was not affected, despite the high winds and turbulent waves. Forty-six vessels carrying 2.2 million tons of cargo crossed the canal.
The Alexandria Port Authority shut down the Alexandria and Daqahlia Straits due to the weather as a security measure, said authority head Major General Adel Yassin Hammad.
Four ports in Suez were also closed on Friday by the Red Sea Port Authority, where waves reached over 3 meters in height, said Major General Mohamed Abdel Qader Gaballah, head of the authority there.
The closed ports included Port Adeeba, which receives cargo; Part Tawfiq, a passenger hub; Port Zayteyyat, which receives petroleum substances, and Atka, a sailing port.
The Sailors Syndicate in Suez called on fishermen and boat captains operating in the Suez Gulf and Red Sea to exercise caution.
"We've warned hundreds of sailors and boat owners that sailing in these weather conditions would be dangerous," said syndicate head Bakry Abul Hassan.
Edited translation from MENA