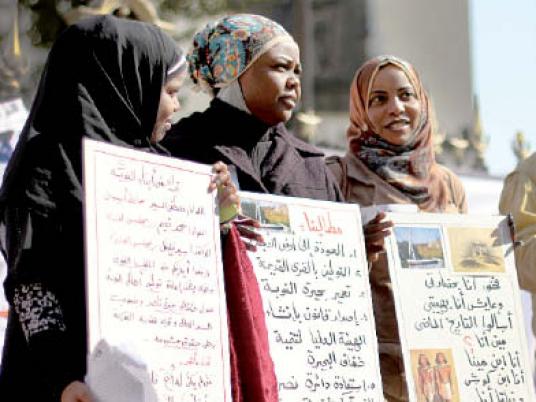 Housing Minister Mostafa Madbouly has instructed the Central Agency for Reconstruction to form an agricultural society for Nubians as part of the Wadi Kurkur project in Aswan, where each family will be granted five acres and adequate drinking water.
During his visit to Nubia on Sunday to follow up on the Wadi Kurkur resettlement project, Madbouly said, "The project is great and I noticed that the population density does not exceed 200 families, despite the availability of services."
The government seeks to create job opportunities through the establishment of an agricultural association for Nubians as well as building a craft industries area.
Shops will be constructed as part of the development project and will be allocated to Nubians as part of their compensation, in addition to cemetaries and a drinking water reservoir with a capacity of 1,000 cubic meters, said Madbouly.
The second and third phases of the project are currently under construction, said project manager and engineer Mostafa Abdel Fattah. The second phase includes 264 houses, 97 percent of which are completed, at LE48 million. Five percent of the third phase has also been completed, said Abdel Fattah.
The head of the Central Agency for Reconstruction Mohamed Nasser stressed the importance of cooperation from the Housing and Defense ministries to implement the project, pointing out that the armed forces will construct four villages which include a total of 1,024 houses.
Nasser pointed out that each house is constructed on an area of ​​220 square meters. It has two bedrooms, a kitchen, a bathroom, and a storeroom, he added.
For decades, the Nubian population has been struggling to relocate from the region near Lake Nasser they were obliged to evacuate under late leader Gamal Abdel Nasser in the 1960s to pave the way for the construction of the High Dam, Egypt's biggest undertaking at the time.
In addition to offering financial compensation, former President Hosni Mubarak's regime had started the Wadi Kurkur project as a response to rising Nubian demands for relocation. Nubians rejected the choice at that time, citing Wadi Kurkur's remoteness from the Nile and their subsequent inability to cultivate the land. They have staged a number of demonstrations following the January 2011 uprising to press for their cause.
Edited translation from Al-Masry Al-Youm