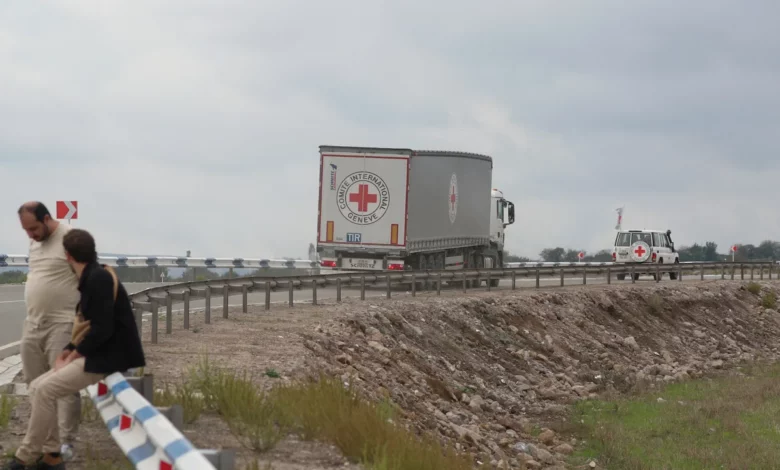 CNN
 —  A Red Cross convoy of humanitarian aid entered
Nagorno-Karabakh
on Saturday, officials said, the first since a Russian-brokered ceasefire ended Azerbaijan's offensive this week.
The convoy consisted of nearly 70 metric tons of humanitarian supplies including wheat flour, salt, dried yeast and sunflower oil, the International Committee of the Red Cross (ICRC) said in a statement on X, formerly known as Twitter.
The aid had been transported along the Lachin corridor, the only road connecting Armenia and Nagorno-Karabakh, the ICRC said.
The road has been blockaded since December 2022 by Azerbaijan, making it inaccessible to civilian and commercial traffic.
The ICRC added that it carried out the medical evacuation of 17 people who were wounded during fighting and had delivered medical supplies and body bags as aid.
"Given the scale of humanitarian needs, we are increasing our presence there with specialized personnel in health, forensics, protection, and weapons contamination," the ICRC said.
Nagorno-Karabakh
, known as Artsakh to Armenians, is a landlocked region in the Caucasus Mountains and lies within Azerbaijan's borders.
It is internationally recognized as part of Azerbaijan but is home to around 120,000 ethnic Armenians, who make up the majority of its population and reject Azerbaijani rule.
It has been the cause of fierce fighting between Armenia and Azerbaijan in the past three decades.
Despite a Russian peacekeeping presence, tensions have been simmering around the region for months.
Azerbaijani troops blockaded the Lachin corridor in December, cutting off the only road connecting Nagorno-Karabakh to Armenia and preventing the import of food to its roughly 120,000 inhabitants.
At least 200 people were killed this week and over 400 others wounded in a military operation by Azerbaijan, officials said as Azerbaijan's defense ministry announced an "anti-terrorist" campaign in the region.
Russia has delivered 50 tons of aid, including rations and basic necessities, to Stepanakert, the region's capital, Russian state news agency RIA Novosti reported Saturday.
US Senator Gary Peters, who is currently in Armenia leading a US Congressional Delegation, said he viewed the blockade at the Lachin corridor with the US ambassador to Armenia Kristina Kvien and governor of Armenia's Syunik province, Robert Ghukasyan.
"I've talked to many people who are very concerned about their loved ones, families and what has happened to them," Peters told reporters on Saturday.
"They know they have been suffering as a result of the blockade over many months, shortages of food, medical supplies, basic gasoline and petrol," he added. "It's a dire situation from what I have heard and I'm very concerned."