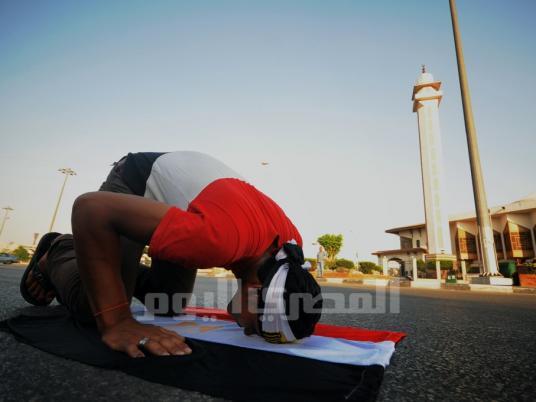 Hundreds flocked to Field Marshal Hussein Tantawy Mosque in the Fifth Settlement, Southeast Cairo, on Monday evening, for an absentee funeral prayer for the lost crew of Thursday's EgyptAir plane crash.
The crowds of mourners came to offer condolences to the relatives of the crew, some in black mourning clothes, others wearing the official uniform of EgyptAir. Staff who attended in uniform said it was to express support for EgyptAir.
"Although staff have been psychologically shaken by the accident, we are trying to carry out our duty to support the airline, said Pilot Saher Hassan, adding that he wore the company's uniform to the funeral as means of expressing solidarity with the company and the families of the deceased.
Another pilot said the airline asked staff to attend in uniform for this reason.
"We could have been in the shoes of the victims," the pilot said, adding that this has provoked a profound sense of solidarity with the bereaved.
Flight attendant Soha Hassan said that even attendants on flights the same evening made a great effort to "carry out their duty," and found time to offer their condolences to the bereaved relatives.
Tight security measures were imposed around the mosque and attendees and their cars were inspected by security personnel.
Edited translation from Al-Masry Al-Youm