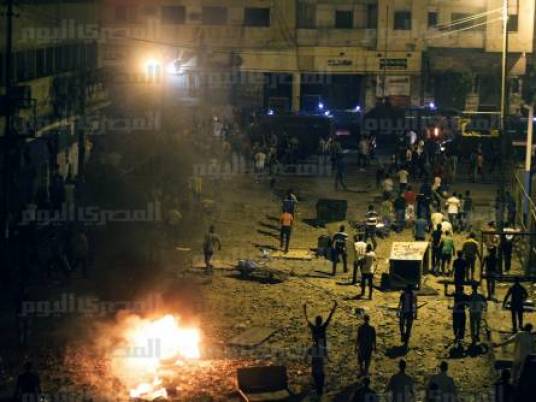 Azbakiya prosecution issued arrest warrants for Muslim Brotherhood leaders Abdel Rahman al-Bar, Salah Sultan, Abdel Rahman Ezz, Saad Emara, and Tawfiq Hegazy, in addition to Fath Mosque preacher Hafez Ghazal, on charges of incitement related to the attempt to storm the Azbakiya police station during the riot in Ramses Square, and to the shooting of police forces on Saturday.
Security forces and Brotherhood supporters exchanged accusations of violence after the besieging of supporters of deposed President Mohamed Morsy inside Fath Mosque in Ramsis, following demonstrations condemning the dispersing of two pro-Morsy sit-ins at Rabea al-Adaweya and al-Nahda squares, leaving hundreds dead.
The prosecution began on Monday interrogating Fath Mosque preacher Hafez Ghazal, who was arrested during the violence, and confronted him with accusations of facilitating the entry of Brotherhood members into the mosque, and turn it into their place of occupation.
The Azbakiya prosecution continues to interrogate 360 suspects arrested during and after the riots in the vicinity of Ramses, on charges of possession of unlicensed firearms and explosives, and committing acts of violence and intimidating citizens.
The suspects include four Irish nationals, in addition to Syrians and Turkish citizens who were also arrested during the events. The police says they were caught red-handed participating in acts of violence, while the defendants deny these allegations and claim that the police arrested them for no reason.
Edited translation from Al-Masry Al-Youm